[youtube]https://www.youtube.com/watch?v=X6Si3bmogK4[/youtube]
Well this is probably the penultimate 2016 review you've been waiting for. With
PunkUser
only a quarter-inch away from disabling the Gate of Storms forums, and the future of Deadhold / Myth 2: Soulblighter, hanging in the balance, only moments before renowned clowns
CUtard
,
DBSeeker
,
TB
, and fake account
LSO
assume
total control
on
Myth2: discord
: Now that it is well known that
Melekor
is a confirmed
SASPER
, level racist, and now that
Pouge
and
CLANK
have returned to taunt our glorious champions, with
AKIRA
vs champ
ASMODIAN
finalized,
GKG
on the SIDE LINES, and
ZAK
and
ZER
matching wits to decide who is the ultimate MWC player of all time, After losing to
The Wight Foundation
in DE3, the
SYNDICATE
defeated
Lord Scary Owl's
near super team The God's of Myth
(as seen in the link, covered by New Mutator), to assume the Bottom Bracket Final position (LSO having easily dispatched both
The Prophets of RAGE
and
Team Insert Name Here
). One can only wait, with baited breath, the outcome of the GRAND FINALS of MWC 2016:
THE SYNDICATE
vs
THE WIGHT FOUNDATION
.
[youtube]https://www.youtube.com/watch?v=N3thi6Nih3k[/youtube]
But let's step back a moment...
Just what exactly happened in DE3, the last matchup between the finalists soon battling for MWC 2016 supremacy?
[youtube]https://www.youtube.com/watch?v=nVRJ0n3KTww[/youtube]
Let's take a closer look.
Before we examine with a microscope the terrible details of the SYN vs TWF DE3 semi-death struggle, perhaps we should examine the team rosters during this epic confrontation.(
official rosters
).
THE WIGHT FOUNDATION
[youtube]https://www.youtube.com/watch?v=2rvY-IXJ5Gg[/youtube]
"The Wight Foundation has a plethora of players on it's roster to cement the foundation it will need to progress in the tournament. Brilliantly crafted to survive a 2 month format, the roster is currently breaking some rules of the tournament while sporting over 16 players. Regardless, TWF is a threat to be reckoned with as limp has gathered some of the best active talent on myth and brought back legendary figures from the grave to battle in this years Myth World Cup 2016. This team has what it takes to make it to the finals and win it all, TWF is most definately 5 Trows." - MWC 2016 TO
"Limp's super team... This team is a major threat, especially if they show in force." - Switch
ZAK
[youtube]https://www.youtube.com/watch?v=zCTJmXrgsFg[/youtube]
"Solid Myth player. Worked well with Seeker in almost leading Noobs Inc. to victory against Syn [in 2016]. Very good at juggernauting, and heavy unit mixes. ... Lead captain for TWF and doing a great job of it. I've heard rumors that rabican will let him be primary NP cap for their return in Deadhold." - Seeker
"Tongued my asshole nicely once while he was getting fucking by my miniature pony. I've always wondered what goes through a man's head when he has another man's hairy asshole in his face and a horse's cock in his ass while the horse is biting the back of his neck. Real trooper. Gonna win MWC [2016] for sure." - Pogue
"The nefarious" - Switch
"TMNS defeat has paralyzed his soul and he has yet to participate. He is a better map maker than toercutter and currently helping make maps therefor his stock is rising." -- Asmodian
LIMP
[youtube]https://www.youtube.com/watch?v=UMqseBSxYc0[/youtube]
"Devastated by NCRs loss to MoM in MWC 2015, and the failure of Vaalbara in TWS 2016, Limp is looking to change history by upsetting his former teammates in 2016, claiming the MWC championship." - Switch
"23) Limp" - GKG
"he will be the one smoking a bowl with Putin and laughing his ass off while they live stream bernie sanders being pushed out of the helicopter. This death will be especially hilarious because when his drum circle followers try to break his fall but were stoned and missed it, he'll blame the billionaires for buying out his following" - Dac
"3) Limp" - Grim
"low 4 balls" - Asmodian
"he's always been a 4 baller. I expect he'll make some clutch plays this tourney and silence the haters." - Adrenaline
"Limp – It's hard to tell how good Limp is from rabble games because he has passed up Pogue and myself as the most famous touch padder on myth. When it comes to competitive games though I trust Limp's decision making over most players, which makes him worthy of 4 balls." - Asmodian
DANTSKI
[youtube]https://www.youtube.com/watch?v=vyGB-bLA62Q[/youtube]
"45) Dantski 12" - Grim
"Considered the best Fetchball player, out competing Liger, Father Xmas, and Ska." - Switch
"11) Dantski" - GKG
"He has heavy hitter abilities, but he is basically a slightly lesser arze in that he is at his best as a role player who will not stupidly lose any of his units. He has the fiery temper to be Trump, but lacks the pure skill to rule the country with an iron fist. He shall be the secretary of "fuck, dont put me with idiots please, I cant do shit when I'm surrounded by these crappy players like OOH and dac."" - Dac
EAST WIND
[youtube]https://www.youtube.com/watch?v=E3ROhjAuDBk[/youtube]
"In him we trust that the social justice warriors and whiny liberal bitches will be violently suppressed in the manner explained below. Congratulations on your ranking, sir, and godspeed in making america great again." - Dac
"Competing for the 2016 Shinco Trophy." - Switch
"12) East Wind" - GKG
"...was chill when he only had 4 balls, now he's performed self-surgery to gain that 5th but at the cost that he's a huge prick now so -1, as a captain is just as dense as THOR but gets better trades" -- WWO
FLATLINE
[youtube]https://www.youtube.com/watch?v=hYw844dTC08[/youtube]
"Was a clinch player in Dapper Dan during the brutal TWS 2016" - Switch
"40) Flatline" - Grim
"He was trending up, but then he got d0nged to the bottom bracket by ULMS" - Asmodian
GARRICK
[youtube]https://www.youtube.com/watch?v=GwJydyRhxfA[/youtube]
"Garrick – I once remembered Garrick as being a scary and mean myther who raped me in my first ever MWC match back in 2014. My image of him has sense changed to be a more ska like teddy bear with neon instead of light green." - Asmodian
"high 3 balls" - Asmodian
HMP
[youtube]https://www.youtube.com/watch?v=urTA6tvxVp8[/youtube]
"Blue vs Grey CHAMP." - Switch
"the only actual pilot in the cabinet, his expertise in spying on communications shall fuel the secret police and his intelligence shall determine where ratking leads his squads next. He shall be secretary of the interior." - Dac
GATEOFSTORMTROOPERS
[youtube]https://www.youtube.com/watch?v=e3fcE4KaDto[/youtube]
"This is Rabican" - Switch
"3 balls" - Asmodian
"6) Rabican" - GKG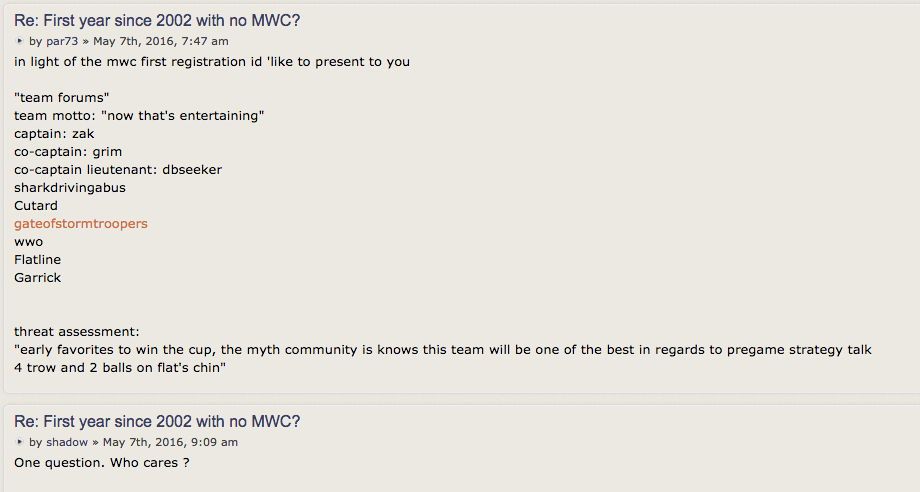 CRUNIAC
[Sub]
[youtube]https://www.youtube.com/watch?v=vbtNJIWldJk[/youtube]
"Did work substituting all tournament. An asset. Had the best ratios with BT." - Switch
"WW2 great who once placed 3rd in a ww2 tournament that Cadre won is one of the best BC players" - Asmodian
"35) Cruniac 14
36) Chohan 14" - Grim
"Trump's greatest supporter, Crun will lead the squad of pinochet style helicopters that will take their enemies up to elevation and push them out to fall to their deaths. Cruniac is the secretary of the newly appointed ministry of fuck your dissent. Crun will also throw you out of a helicopter if you say that slipknot is screamo." - Dac
"4 balls" - Asmodian
THE SYNDICATE
[youtube]https://www.youtube.com/watch?v=ZL9fnVtz_lc[/youtube]
"The Syndicate comes into MWC16 with a bullseye on their head. They are the champions of the Winter/Spring Season Elimination styled TWS16 tournament. Things change month to month, but this roster has an identical mold of it's team from the previous tournament with the addition of Zer. If they can bring the factors which brought them to their come from behind victory in TWS, Syn has a great chance of making the finals or winning it all. Lead by Ratking, The Syndicate kicks off MWC16 with a 5 Trow Threat Rating." - MWC 2016 TO
"Ratking picked up Zer, and it would be dope if he shows to add muscle to the already top-heavy syndicate roster. With incredible depth and the astonishing TWS victory over GKG under their belts, we can expect the Syndicate to go far this MWC... a deadly team all told" - Switch
RATKING
[youtube]https://www.youtube.com/watch?v=4JZhGYrgCPg[/youtube]
"Ratking – 5 balls" - Asmodian
"he will lead the squads of soldiers into the circlejerking protesters who dare demand an end to helicopter executions. His loyalty to the donald will make sure that EW maintains his iron grip as emperor of all that is white." - Dac
"Ratking who is famous for being an original member of tmnt as well as infamous for not being so much of a gentleman is a 4-ball role player. He thrives as a role player, but loses a little bit of his edge as a heavy hitter or captain." - Asmodian
FUNK
[youtube]https://www.youtube.com/watch?v=7-iLzd-HKRg[/youtube]
"high 2 balls" - Asmodian
"former prodigy of asmo from a draft tournament very long ago gone astray and his growth has come to a hold with the gentlemen" - Asmodian
AKIRA
[youtube]https://www.youtube.com/watch?v=yUmSVcttXnI[/youtube]
"3 balls" - LSO
"1v1 enthusiast" - Switch
"low 3 balls" - Asmodian
ARGOS
[youtube]https://www.youtube.com/watch?v=oP_oUZvvdmw[/youtube]
"Argos once ran his trow to the other side of the map in a PG rabble game and tried to claim that he did his job trowing. Other than that Argos has become a decent myther in the past few years earning himself as a role player for some solid MWC teams." - Asmodian
"smart roleplayer" - Switch
"He once told me to boot a player from my own roster. He seems to be doing ok." - Asmodian
PARIS
[youtube]https://www.youtube.com/watch?v=mI4ZnMT8Pmc[/youtube]
"...placed 5th in GKG's 1v1 tourney." - Ratking
"30) Paris" - GKG
"11) Paris" - Grim
"4 balls" - LSO
"trusted with running some simple administrative task, then fuck it up to the point where the rest of the cabinet will not participate, then he'll smoke a bowl and attempt to gain support in article form, and then eventually the cabinet will turn on him. Eventually, his incompetence will earn him a one way nose dive out of a helicopter." - Dac
"I'm not sure what paris is more known for these days, being a 4-time MWC champion or being a MWC chimpion from 2013 until present time. I highly believe that his current drought of tournament wins all started when he was cursed for attempting to unjustly send tmnt to the bottom bracket in MWC 2013." - Asmodian
RAWR
[youtube]https://www.youtube.com/watch?v=h-UqMU-MIig[/youtube]
"high 3 balls" - Asmodian
"Rawr will be deported through the wall, then made an example of the giant door in the middle. This mexican will be allowed into america and used in every single propaganda commercial to show that this country is indeed accepting of the best they have to offer." - Dac
"Placed first in Milkman's FFA League 2015, and was a key ingredient in Syndicate's TWS 2016 victory." - Switch
ADRENALINE
[youtube]https://www.youtube.com/watch?v=UHXrF9yjatM[/youtube]
"25) Adrenaline" - GKG
"high 4 balls" - LSO
"Adrenaline – Adrenaline is still the same he has always been, a racehorse. He is a BC machine that has his eyes on the prize and lets the tunnel vision take over." - Asmodian
ZER
[youtube]https://www.youtube.com/watch?v=6rbPTQIdjmY[/youtube]
"Back from his 2013 retirement, Zer is a legend, perhaps the greatest living trow and dwarf player." - Switch
"17) Zer" - Grim
"17) Zer" - GKG
KRYPTOS
[Sub]
[youtube]https://www.youtube.com/watch?v=Ah9n9MCtPLM[/youtube]
"Kryptos can play any role with proficiency. Resourceful player." - Switch
"low 3 balls" - Asmodian
"Once Mr. Mystery man himself eventually revealed his secret identity as sk8er he could no longer pass the threshold of 3 balls. How could anyone who was once the player sk8er ever be higher than 3 balls?" - Asmodian
LSO
[Sub]
[youtube]https://www.youtube.com/watch?v=p7FCgw_GlWc[/youtube]
"low 3 balls" - Asmodian
*****************
GAME ONE
: SMELLS LIKE MY NEMESIS IN HERE, DARK, King of the Map which is a difficult twist.
[youtube]https://www.youtube.com/watch?v=pIiyoUZTHNM[/youtube]
Well this is an inverted classic for a first map. I always find this mesh challenging, because it forces the player really execute planning and small group tactics. Paris' Twitch feed for
this series is here
, which I used to determine what their team was doing since they didn't type much while on VOIP.
Paris trades slower than ZAK, the trades you can see here.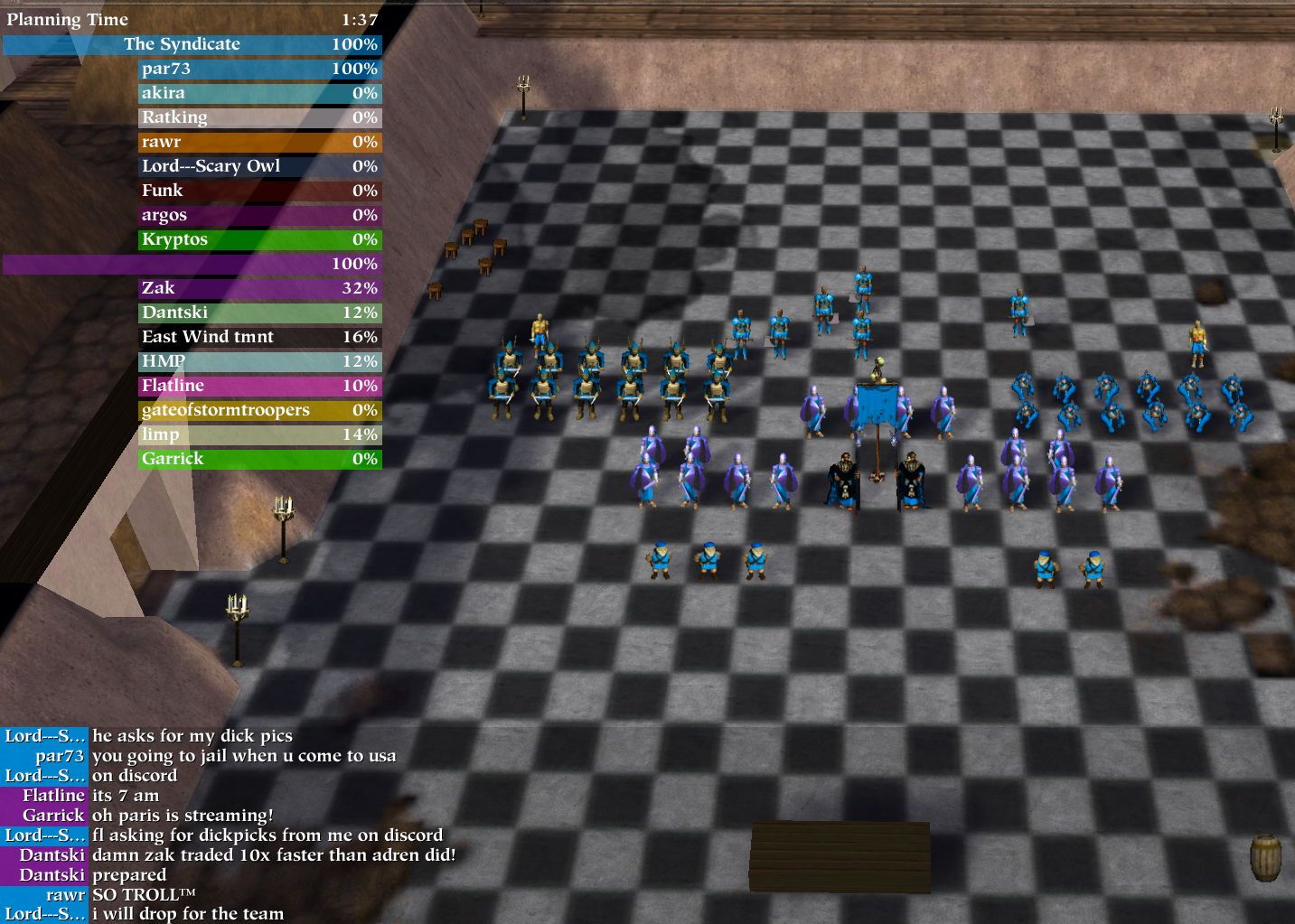 Syndicate is playing rap music and Ratking wants to send Herons to the mid. Paris traded for a few more ghols rather than warriors. Both got 5 dwarfs but Paris took thrall over wights, TWF opting for four.
Paris thinks this is no problem, although Ratking is considering dropping if required.
They're planning a similar east/west strat with both warlocks mid.
Kryptos is afk. VOIP starts screwing up immediately with some random doom music + rap.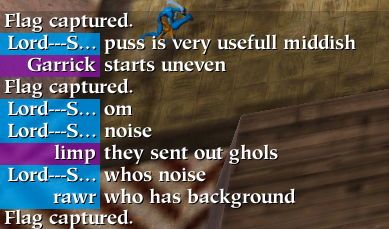 Zak wants to send Gate of Storm Troopers who I guess is Rabican with HMP to the west, and Dantski, Flatline and Garrick to the east.
As you can see, Zak thinks Ratking is camping, but Kryptos is really just afk and Paris traded slowly.
Here Limp, and East Wind size up Rawr and Kryptos.
Things start to get complicated at 9 minutes when Paris with
Casgair
kills Limp's puss ghol,
Squisher
.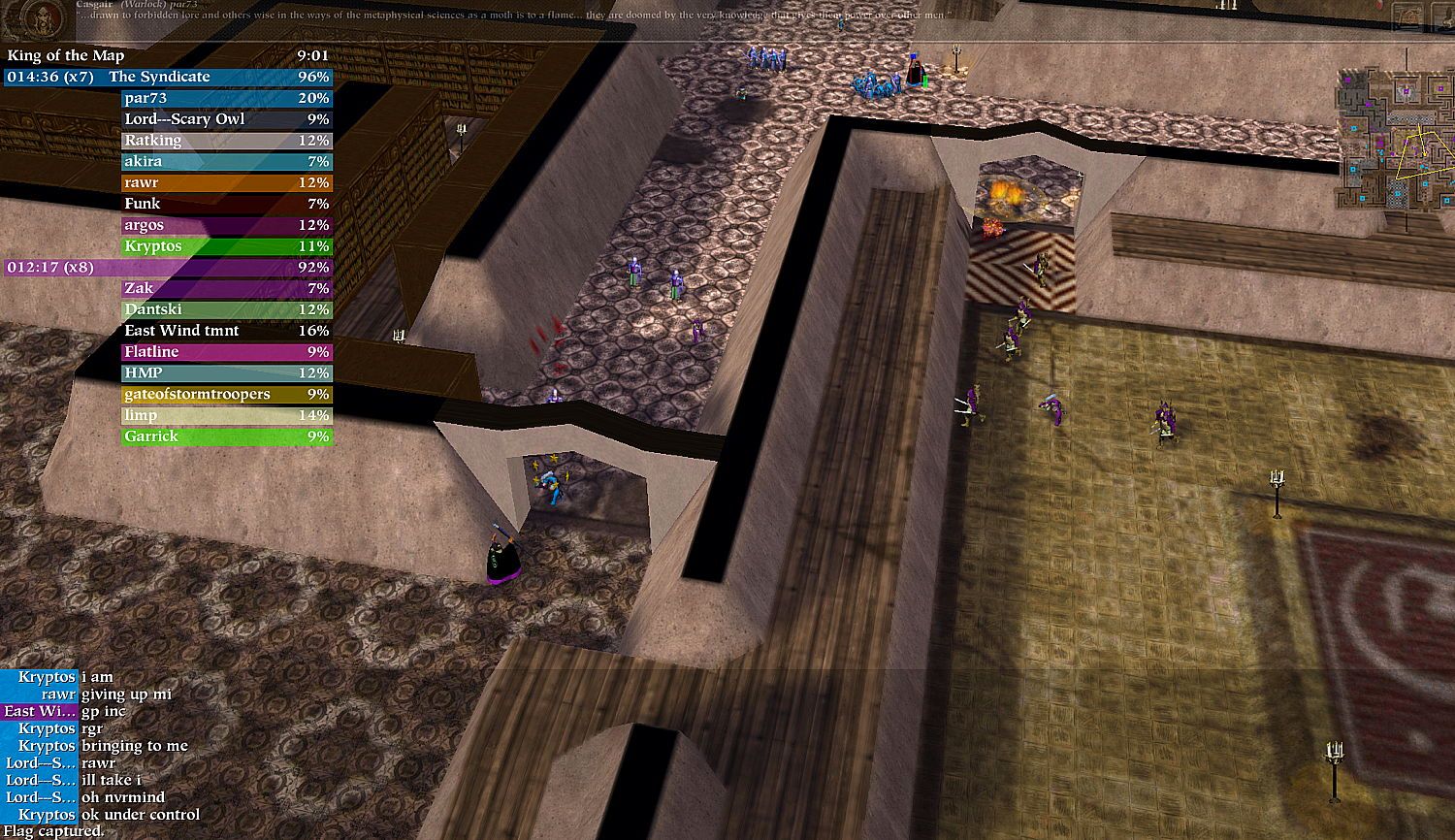 There are some initial losses, Rabican blows up RAWR's herons with a dwarf,
Soli
, and Krytpos and East Wind exchange blows.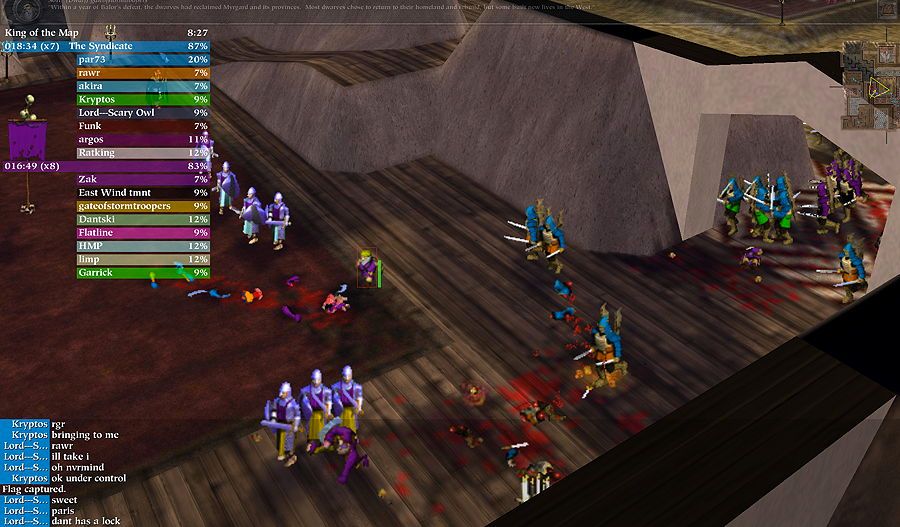 Luckily, HMP uses be'imneach to CONFUSE Rawr's herons which allows Limp and East Wind to rush to reinforce, with Paris moving in his warlock and gholpack behind them.
Paris then suckers Limp's Herons with his suicide gholpack, blowing them away with satchel bombs,
Tormentor
here, triumphant. It's now 72% to 76% favouring TWF.
About 8 minutes now, you can see the general dispossition, mid and west:
IN the East,
Ari
controlled by Argos and
Dari
controlled by Flatline battle, with flatline's ghol and wars exploding then they fail the pus rush against argos.
Meanwhile, Dantski is moving in on Paris and Lord Scary Owl in the mid, while East Wind, while Kryptos and Ratking consolidate against Eastwind.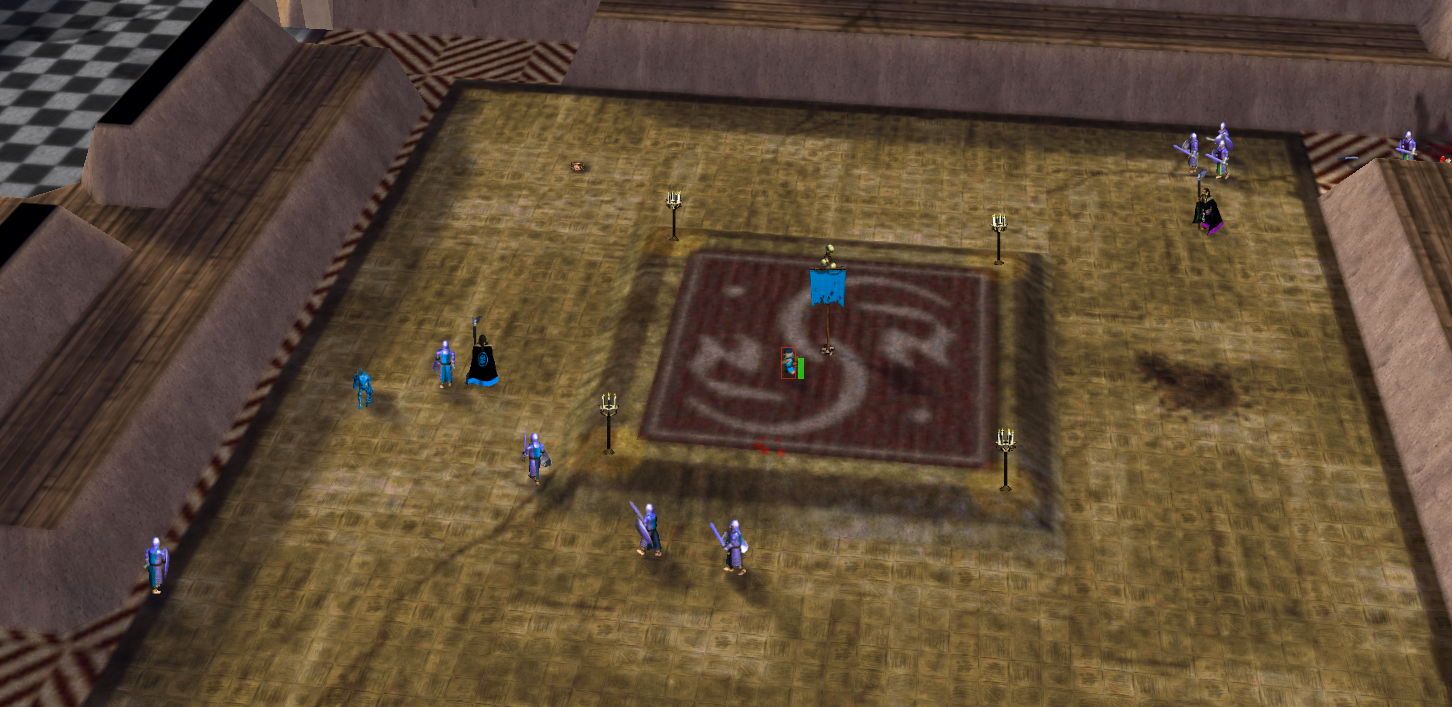 Dari flees from Hasher while the warlocks trade shot mid. TWF now controls more flags, but has less time overall.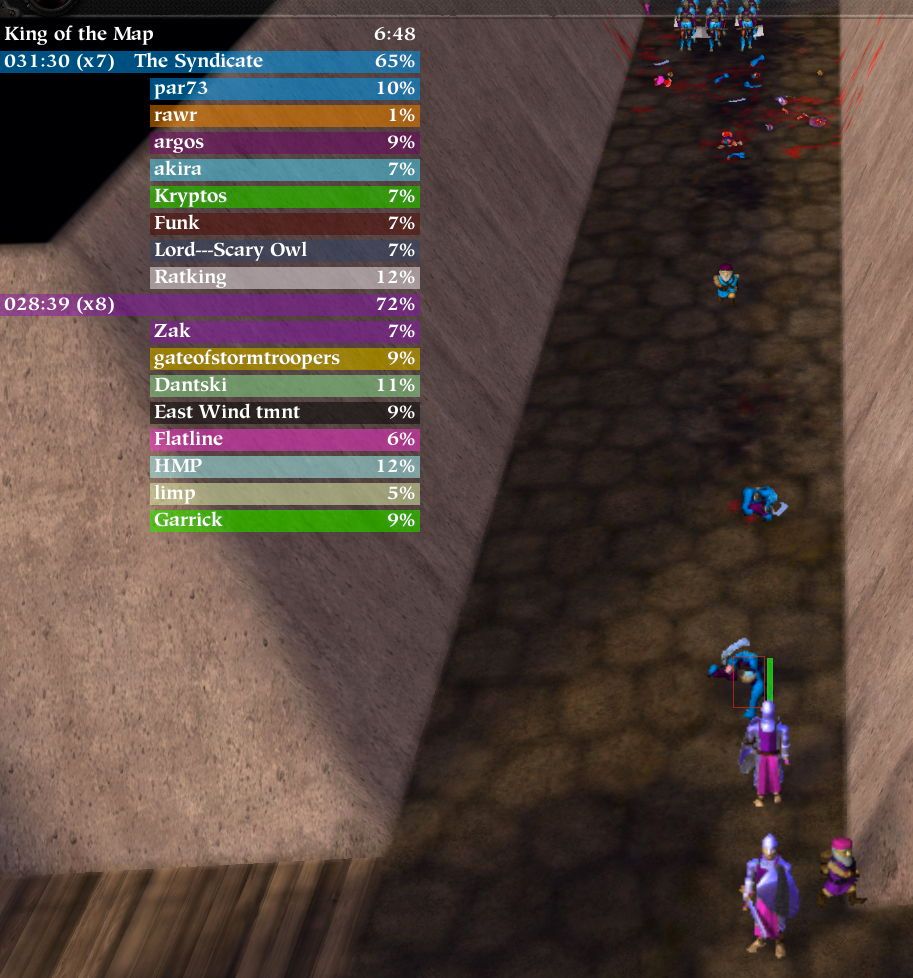 Within a minute things are swinging, with TWF up four flags and 7%. HMP and Dantski triangulate on Paris.
Kryptos and Ratking, with
Martard
, is pushing East Wind back mid.
Argos goes to assist Lord Scary Owl who has his back to HMP, who confuses LSO's dwarf
Jar
, but he gets away.
Dantski, with East Wind's support, manages to fend off Krytpos, denied the kill against
Mairtrighim
Akira and Argos use their dwarfs to push Garrick away from the East flag, and the game is still close, although less than four minutes remains with Syndicate down time and 10%.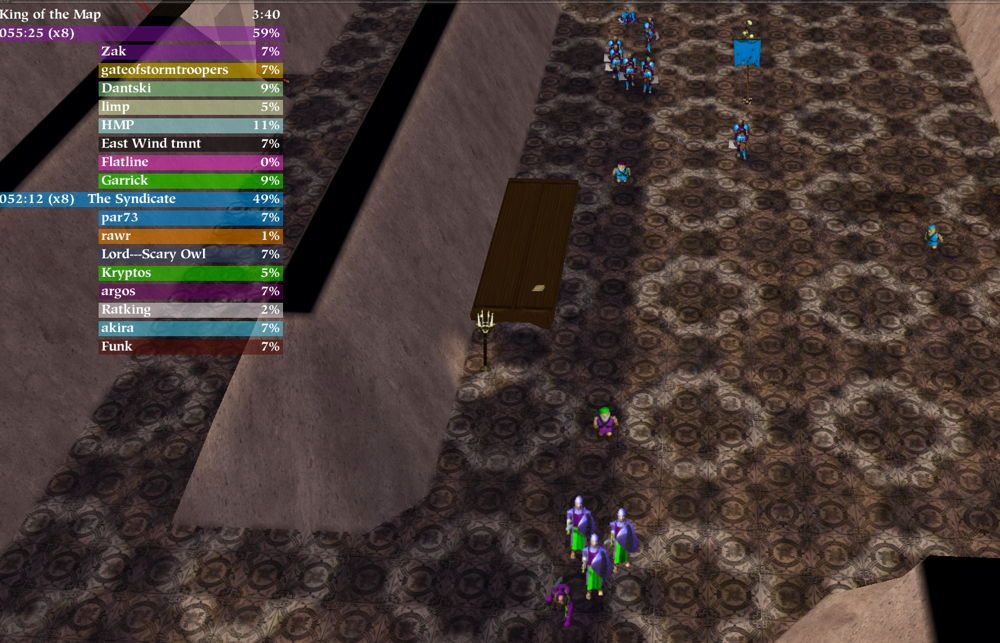 So as time ticks down and TWF pulls ahead (10 flags to 5), the game resolve into two dwarf duels, Paris vs Garrick in the east and ZAK vs Funk in the west.
Rabican blows up Kryptos, but East Wind is able to snipe Argos, while Garrick and Akira are still in a near stalemate, the game, however, is over with only a minute left and Syndicate down by 13 minutes.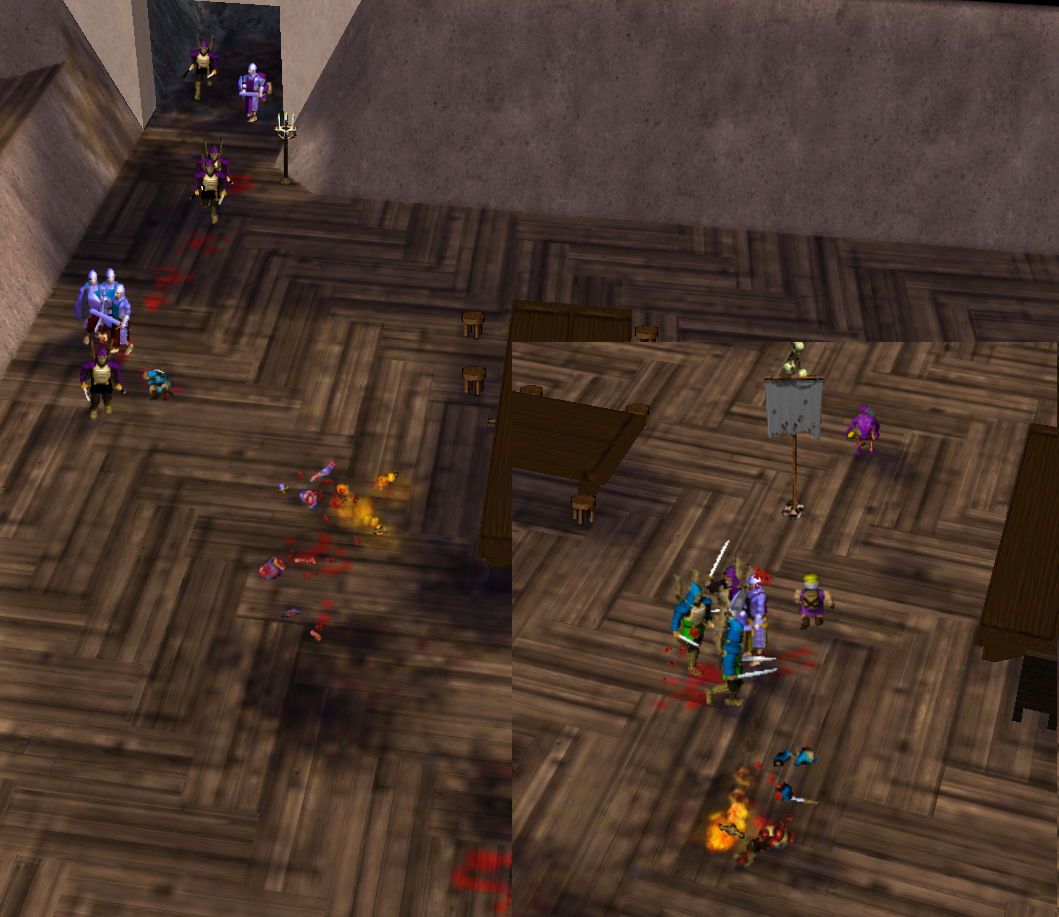 For symmetry, Paris and Dantski have a warlock fight mid in which both
Casgair
and
Mairtrighim
are killed. END GAME ONE.
The final numbers of GAME I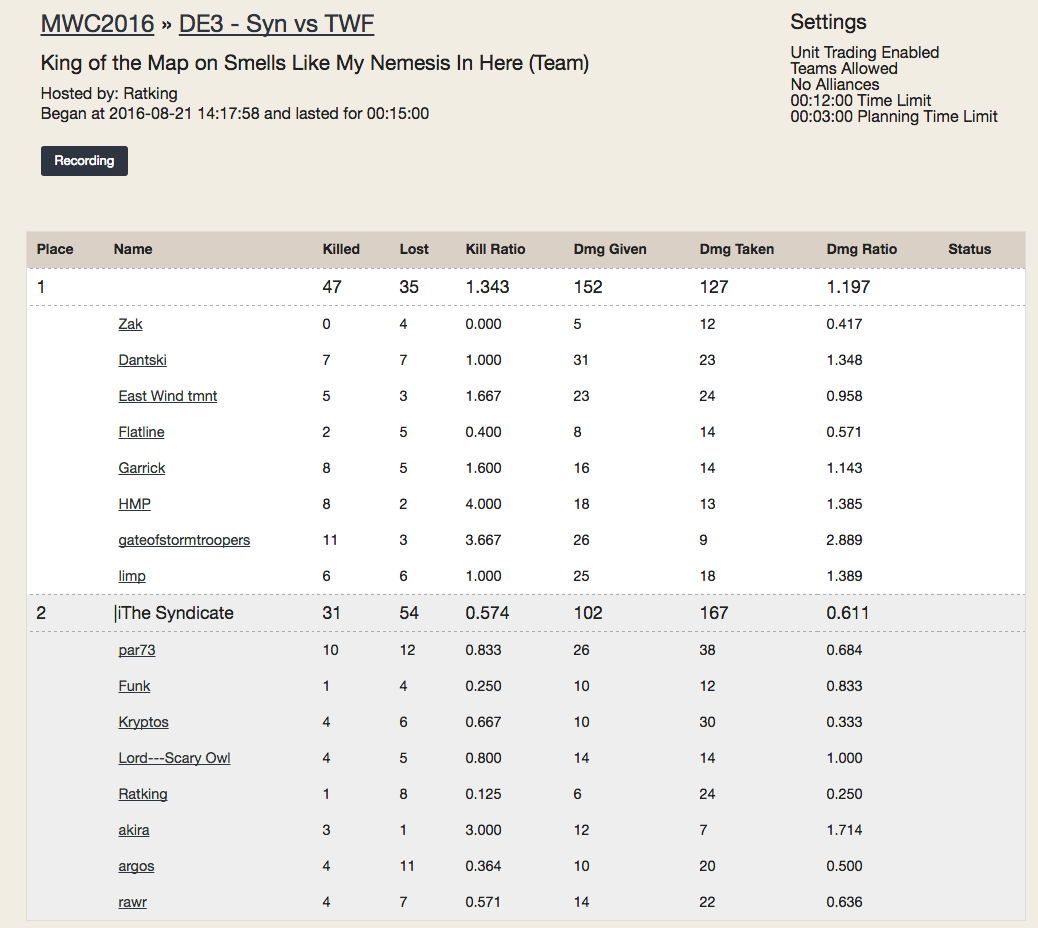 GAME TWO
, Territories on DARK CANYON
Zak wins here again, putting TWF up 2-0, Ratking is visibly shaken by this disturbing turn of events. Adrenaline joins the game.
[youtube]https://www.youtube.com/watch?v=2i6BXbPTRYY[/youtube]
GAME THREE
, FLAG RALLY on Rank and Defiled,
Syndicate needs a win here to stay in the match.
[youtube]https://www.youtube.com/watch?v=Cv_dWQK5Sv4[/youtube]
Here you've got Ratking and Zak's trades. Syn got archers and fewer brigands, but 7 instead of only 5 mortars, otherwise, the trades are the same.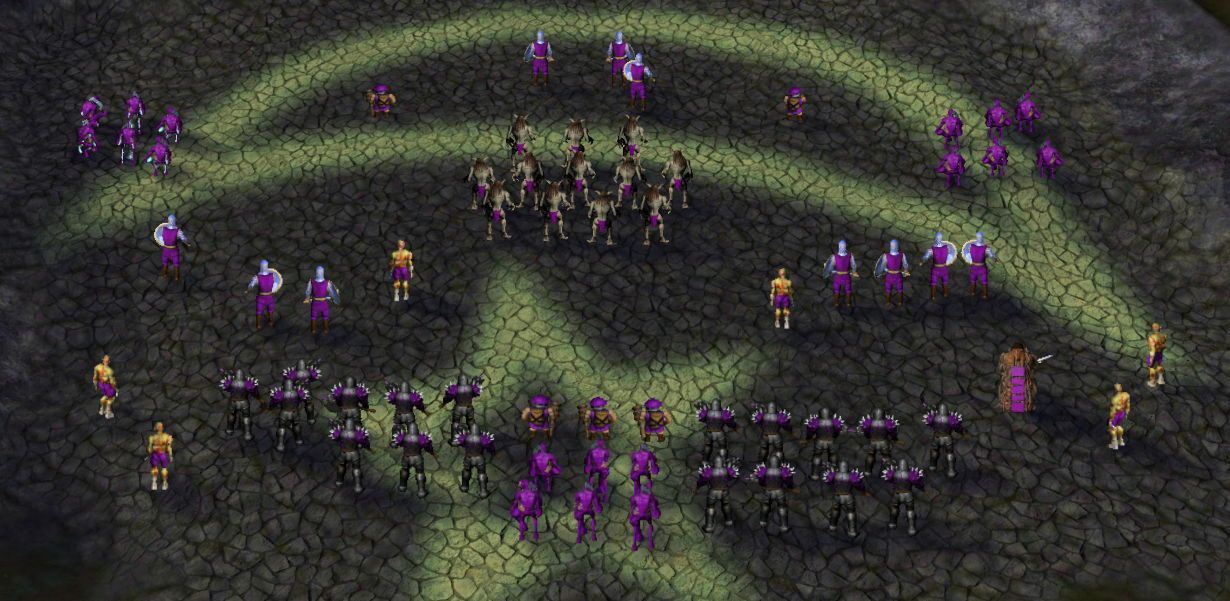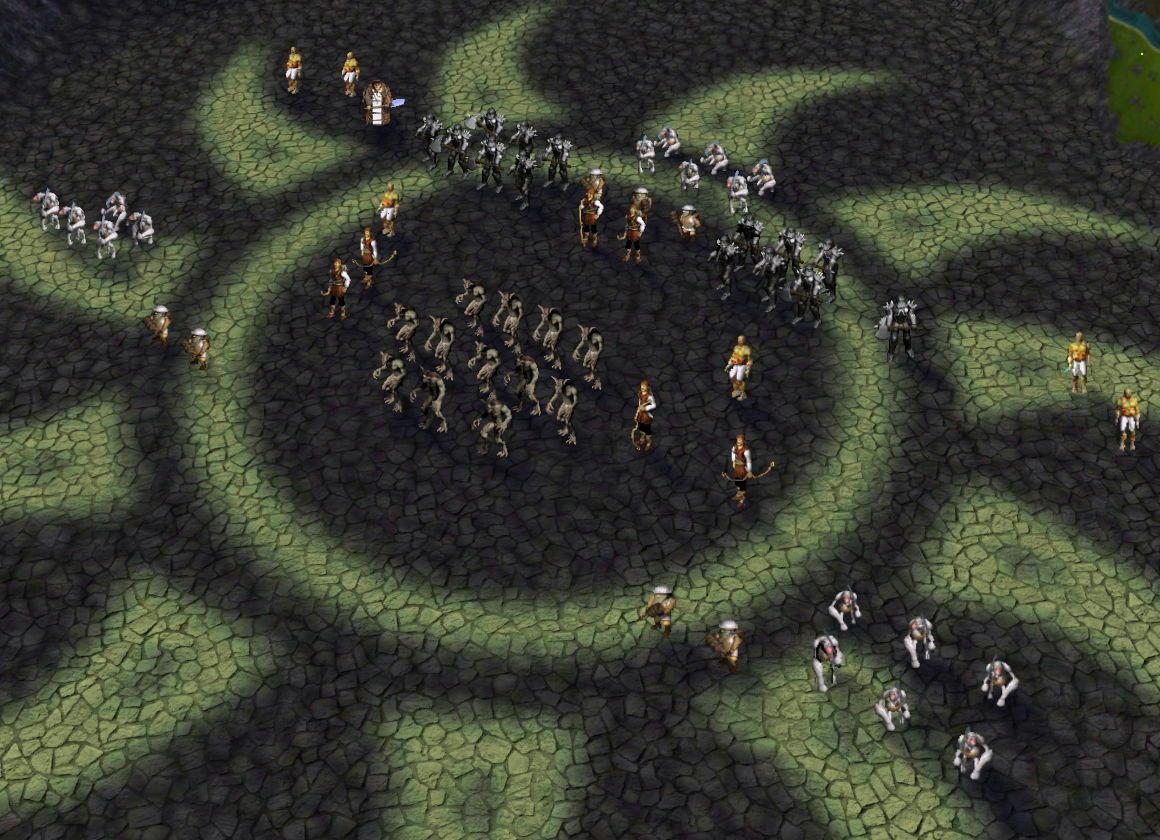 Syndicate is a little slower on the draw South, and ZAK is able to get TWF into the lead with the mid and north forming up.
You can see pretty well what's happening here. Meanwhile, Kryptos and Akira are holding against Rabican in the North.
TWF's mid starts to get aggressive, and Adrenaline loses an archer and takes some mortar fire.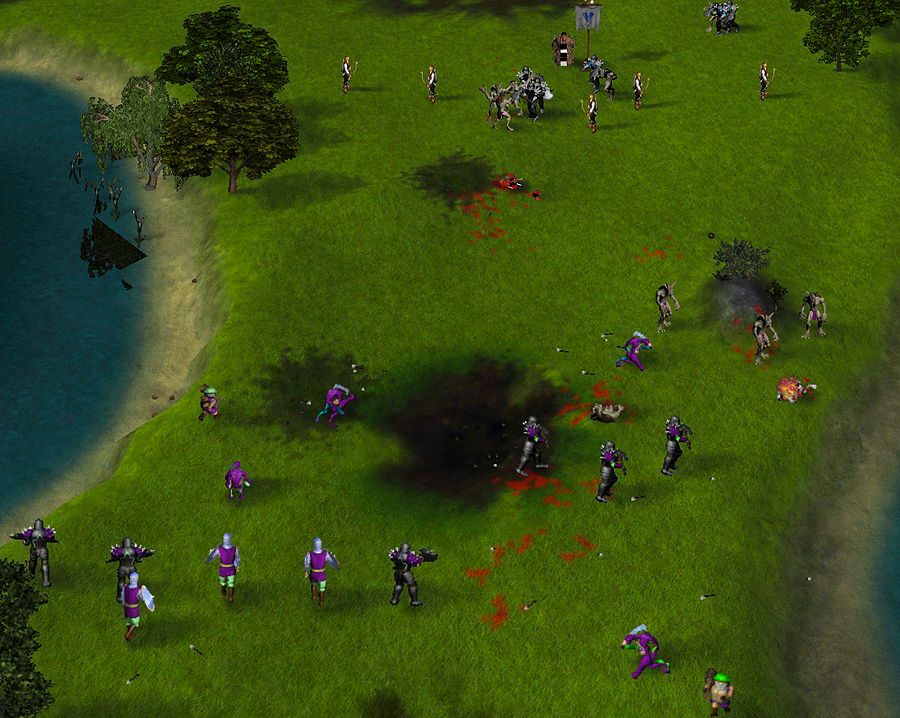 Garrick's mortar gets snipped by Akira, and ZAK orders reinforcements Mid: Dantski's
Durin
is the only arty mid for TWF now.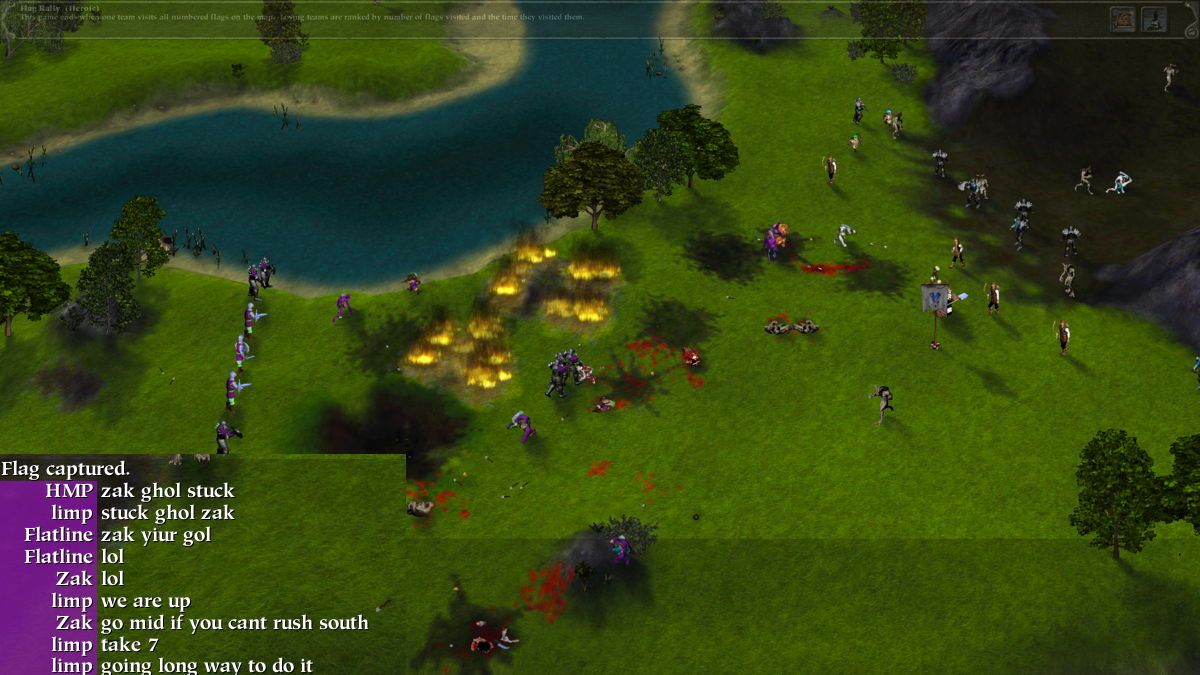 Zak comes in with ghols mid, but misses the pus-mortar bomb combo with
Slaughterer
, although he does puss Kryptos' duff,
Ladi
. Meanwhile, Ratking, with a gholpack, chases away Rabican in the north.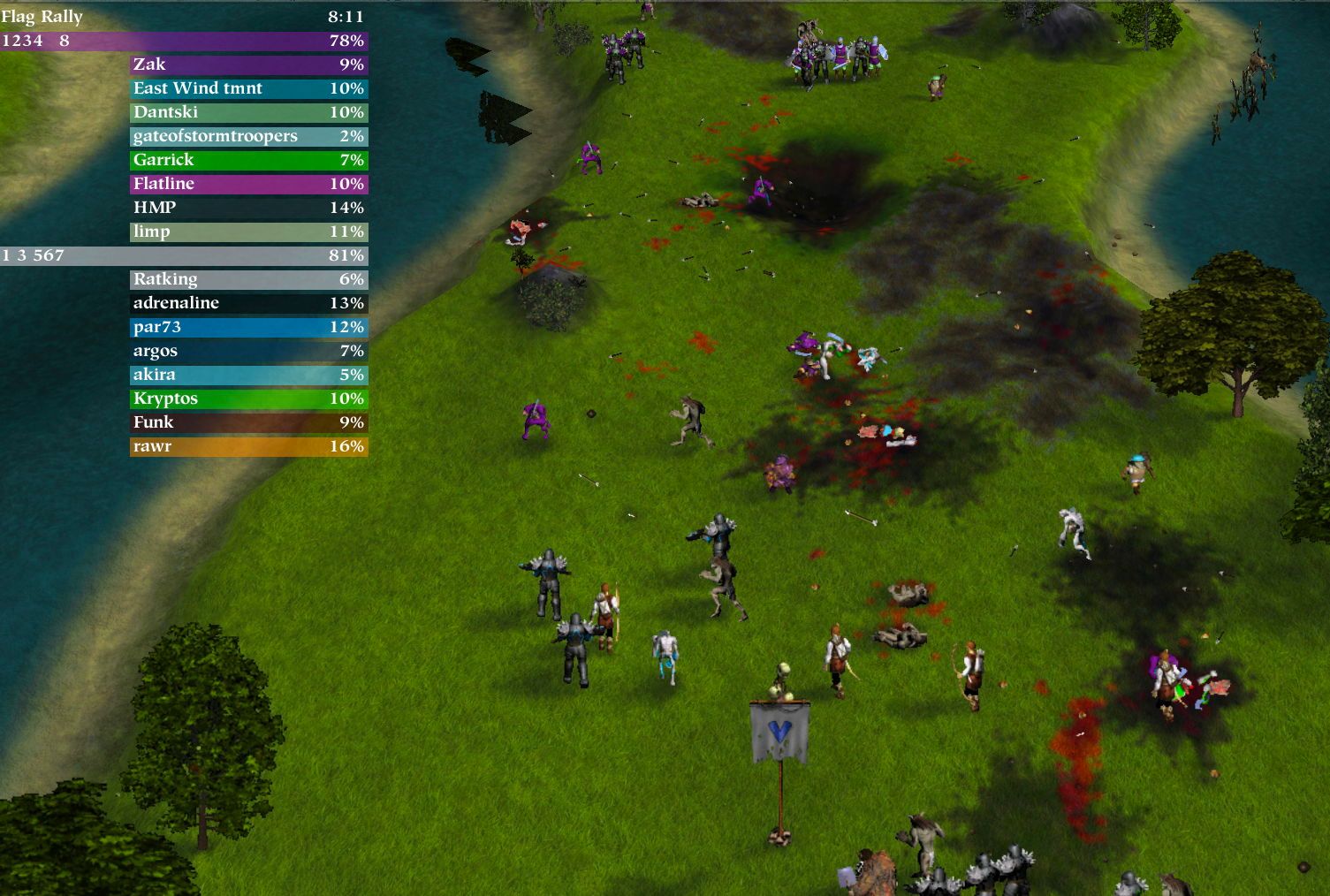 Syn now has 3 mortars mid, but Rabican is also coming in the pus. Rabican goes to pus Argos'
Bui
but is blocked and only pusses himself. South is a total stalemate.
Splitter
pusses Paris'
Tadi
but not before the mortar gets off a sweet shot killing most of Dantski's melee.
If SYN can score flag II this will not only break TWF in half, but also secure the lead for Ratking's team.
TWF's mid force is reduced to a rump defence around flag 8, and ZAK is down by 14%, although, Ratking does hand III over to Limp. Zak orders a suicide mid rush.
But it's not going to happen. with Kryptos, Argos and Akira there to block with 3 mortar dwarfs, Flatine's duff is quickly killed by Kryptos'
Ladi
. The rush is a non-starter, Syndicate is up over 30%, Adrenaline's melee cleans up Garrick, and Limp is still dancing with Ratking's mobile force in the south. Rawr and FUNK start work on HMP, although they are totally capable of just holding and running the clock out at this point.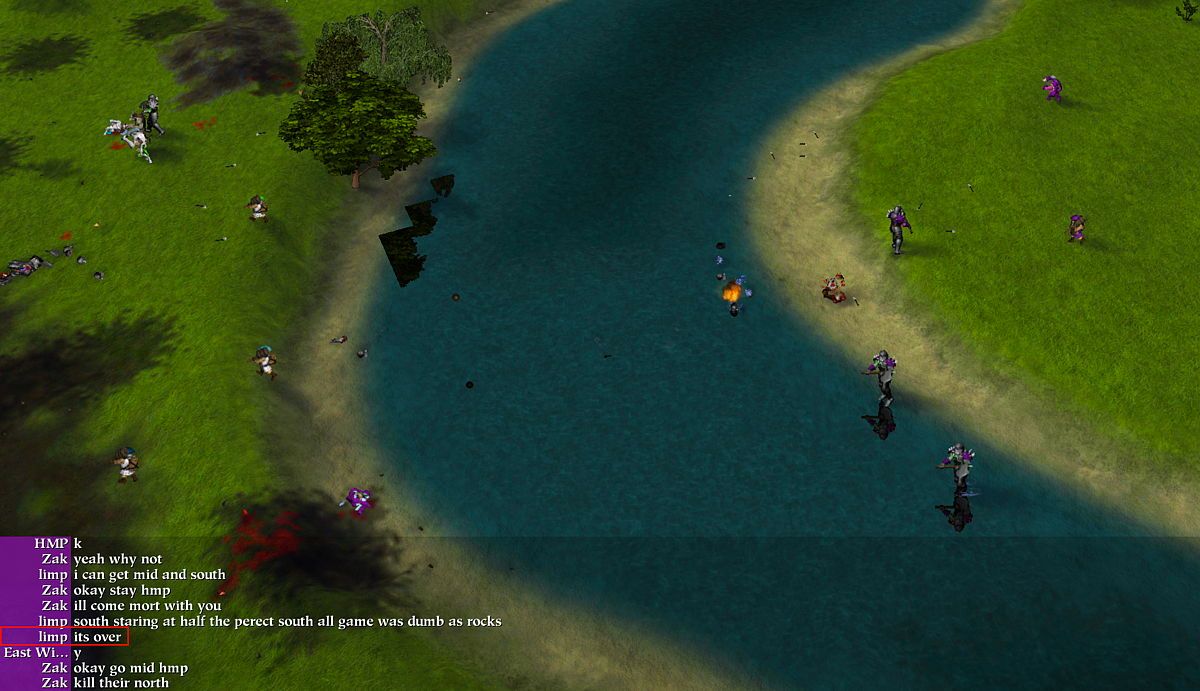 Syndicate wraps this one up with a convincing victory, needed pushback against ZAK's WIGHT FOUNDATION horde.
How will things play out in the critical game FOUR?
Stats:
GAME FOUR
, Capture the Flag on Barbarian Valley, DARK
TWF is prepared to put away the Syndicate, if ZAK can secure a win on this highly contested dark classic. Syndicate is forced to play for the win on this CTF pick to stay in it.
[youtube]https://www.youtube.com/watch?v=ZkqyIoYAXV8[/youtube]
Zak gives all three trow to East Wind. Ratking handed his three to Adrenaline.
You can see the trades here: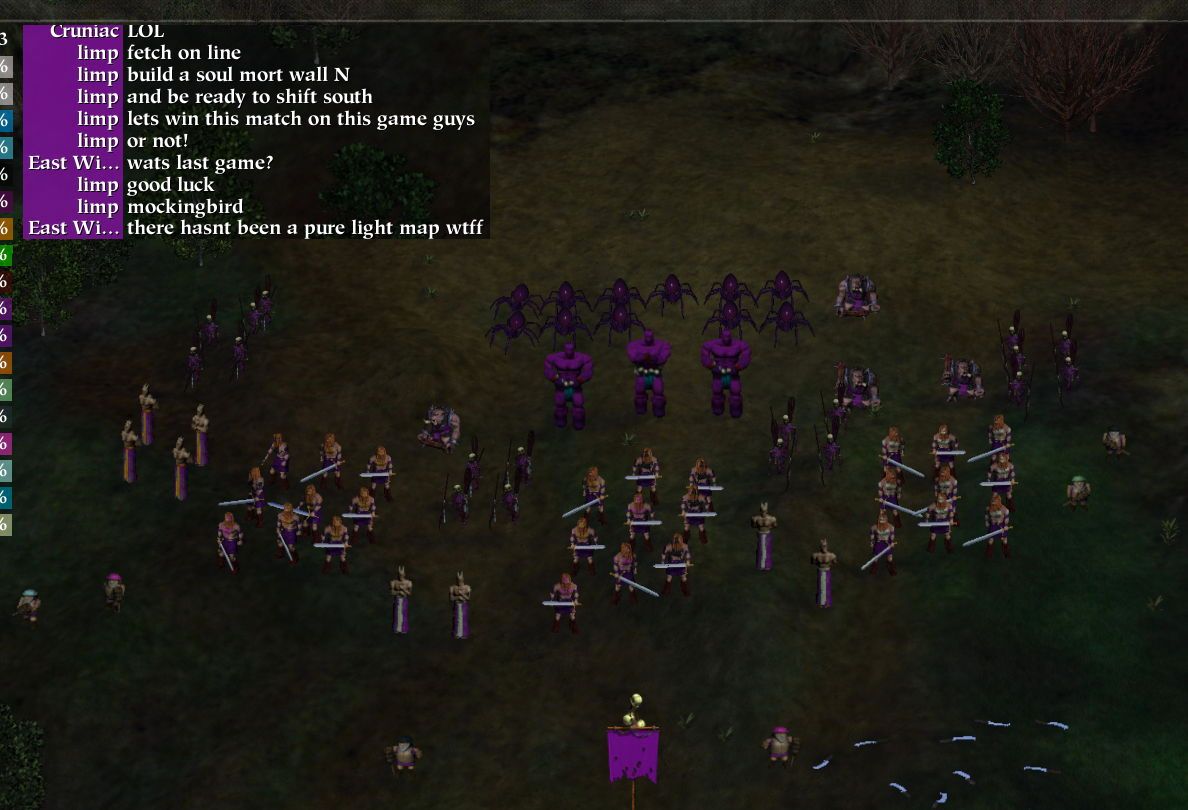 TWF picked up 6 morts, whereas, Syndicate only traded for 4, with the rest of the points going into mauls. East Wind notes that this is a 16 minute CTF, but that only increases the pressure for Syn, who need a win here.
Akira moves north, Paris hands back south with a mortar in reserve, while everybody else develops into a traditional mid battle.
TWF secures the highground mid with HMP and Rabican's mortar dwarfs, facing Ratking's morts and Rawr's fetch, and Cruniac and Limp put some fetch blasts onto Adrenaline. The situation mid is very tense.
Rawr loses a fetch to Dantski's soulless, and Ratking smokes one of HMP's morts, Zer is in a soul battle with Rabican, but otherwise it is tied at 91%.
Paris goes to town on Rabican's souls, while Adrenaline gets in East Wind's face.
The trow battle forces East Wind and Adrenaline to split up, with TWF moving for Syndicates home flag.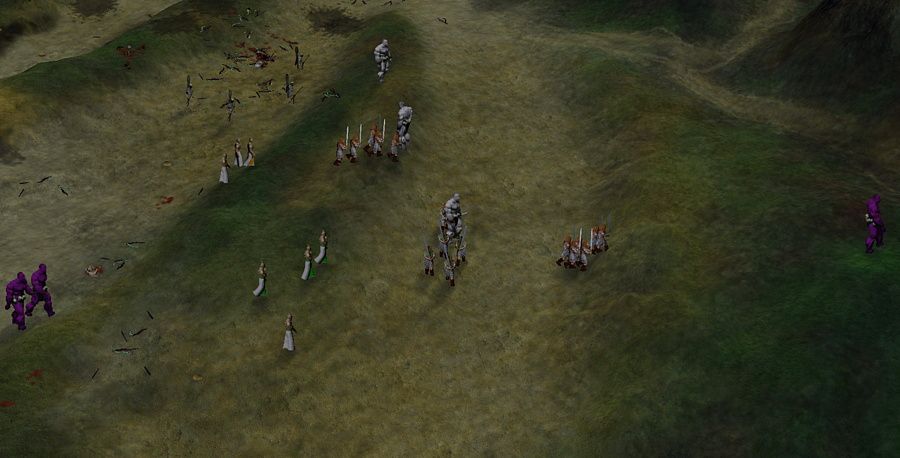 Limp decimates Zer's Souls, and TWF is mobilizing serious pressure on the Syn flag D. %s are nearly tied at 78%.
TWF is now up about 7% and has good positioning on Syndicate. They keep the pressure up, Kryptos and Rawr are reduced to one fetch, with HMP's mortar,
Ladi
laying down the heat.
Cruniac obliterates Adrenaline's zerks, which, all told, puts TWF up 13%. Adrenaline is upset by this, so goes in hard against Limp's fetch, smoking them but sustaining significant damage in return from East Wind.
Eastwind kills one of Adrenaline's trow, Dantski snipes a fetch, Rawr blows up a bunch of Cruniac's zerks. Syn is still down 14%. Paris gets another Cruniac fetch with his mort, and Ratking takes over the mid trow, killing more of Limp's fetch with
Mons Latus
., but its still 47% to 55% favouring TWF.
Paris makes a beautiful mort shot (
Jarling
), killing all of TWF's remaining souls, but by now East Wind has three trow concentrated against Ratking's one, with the Syn maul defense now split, so it is only a matter of time.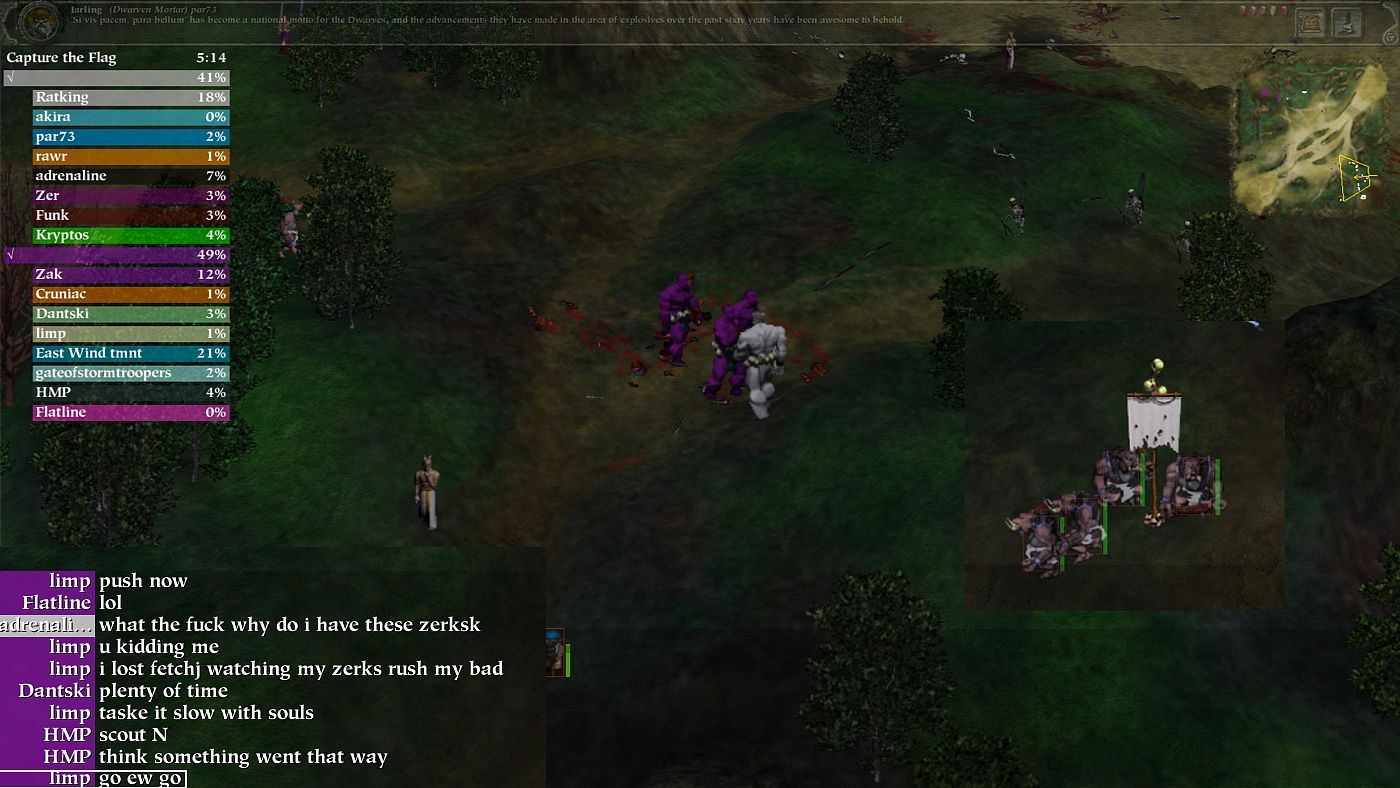 ZAK cleans up, and East Wind caps the flag; TWF secures the match with this crucial win. What will happen when these two teams meet again for the GRAND FINALS? Only time will tell.
GAME FIVE
, Mocking Jay
They play out it, Ratking is able to secure a pyrrhic victory over TWF, final score: 3-2
[youtube]https://www.youtube.com/watch?v=XXlZfc1TrD0[/youtube]
These are the hard figures, with accompanying information about the players who fought in this god-like super-battle.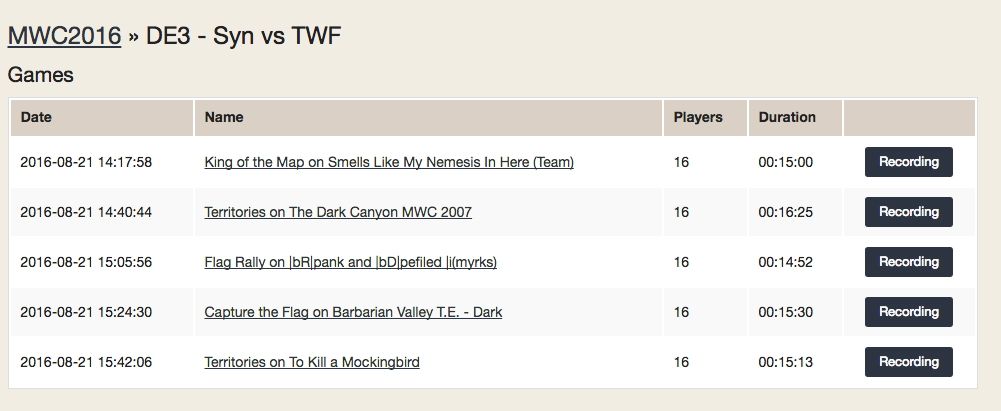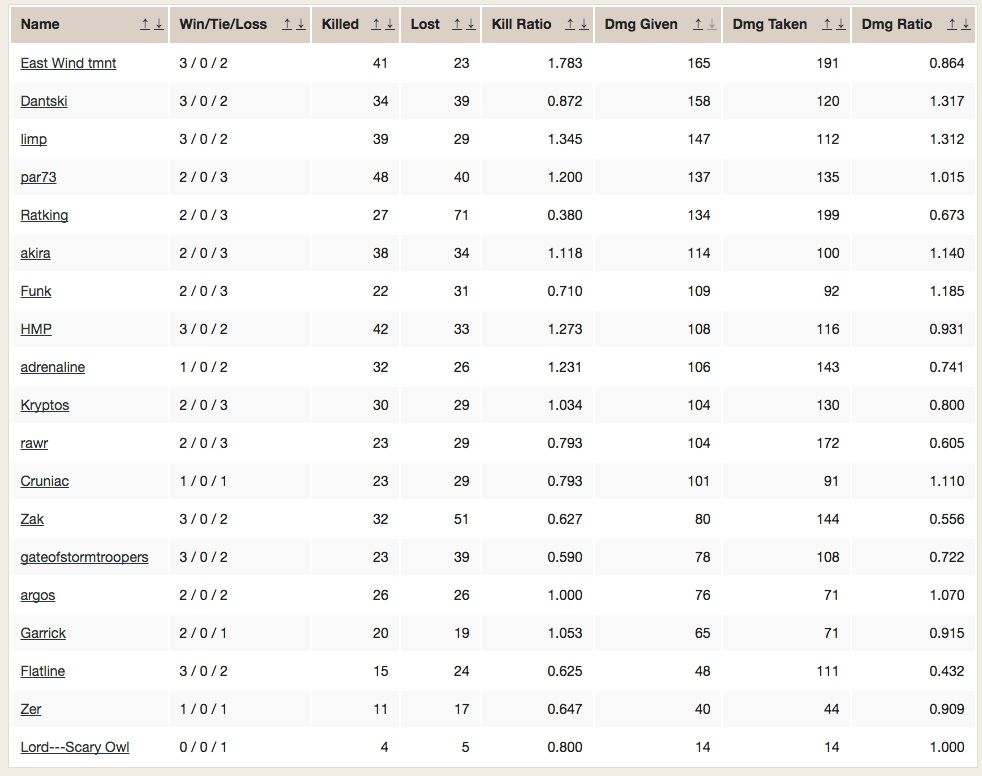 [youtube]https://www.youtube.com/watch?v=NyLhIbI4ptY[/youtube]