CU CLASSIC WAIVER WIRE ARTICLE
WEEK THREE, A MIGHTY idiot VS REQUIEM FOR SOME CARE
[youtube]https://www.youtube.com/watch?v=cdB9lTUyshM[/youtube]
So it's draft tournament time in the Gate of Storms Myth Universe. Once again teams of random people are assembled and given the chance of seizing Myth 2: Soulblighter glory, in tournament form. This week saw the first team eliminated from the tournament, and, thankfully, the match was a hotly contested game between two strong teams. Since losers
CU
and Muslim
DBSEEKER
have done almost nothing to promote their own tournament, they've yet again left it to more intelligent, handsome and talented m2sbr players to develop content that we all know the tournament "hosts" would be totally incapable of developing themselves, given their shallow, hate-filled, impoverished existence- no doubt soon to be cut terribly short by suicide; induced by unfavourable divorce settlements. Thank god
LSO
wasn't here so I don't have to say anything about his aggrandizing suicide dummy accounts.
[youtube]https://www.youtube.com/watch?v=BgapRKgS0RA[/youtube]
With the current year being 2016 and with absolutely nothing at stake in this tournament, beyond some vague sense of Myth 2 achievement, the endlessly feuding myth warriors must once more put aside their differences to come together as teams of leaders and led, to face each-other on the Myth 2: Soulblighter field of battle, perhaps,
for the last time ever
. What glorious deeds will be performed? What harrowing acts of heroism will our champions achieve? To what lengths will the dummy accounts go to deceive their opponents with cunning? What incalculable skill will they deploy to best one another in this, the contested successor to the infamous
Asmodian
Draft Tournament? If you dare, scroll below to discover the terrible truth:
[youtube]https://www.youtube.com/watch?v=6uhO1SNJRMQ[/youtube]
The teams as they appeared at the deciding game:
Requiem for Some Care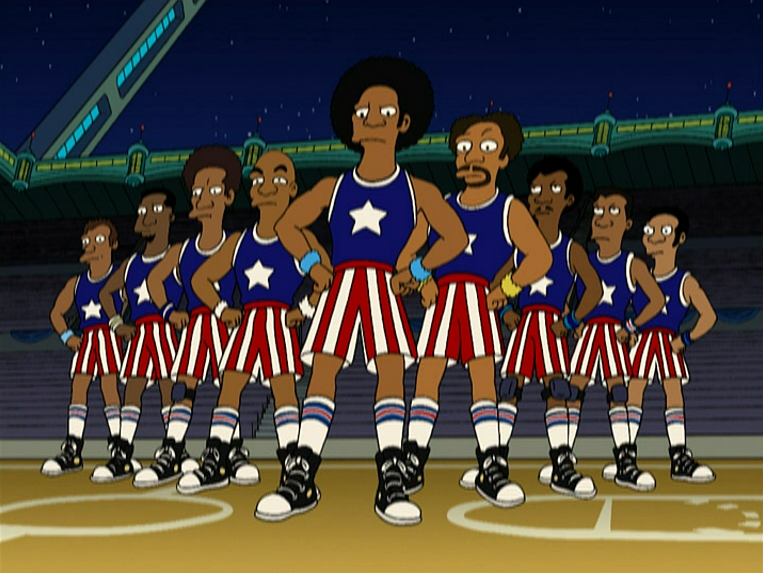 [youtube]https://www.youtube.com/watch?v=mNeEUnI2ruc[/youtube]
"Two extremely close matches that went down to the wire. In last place in this tournament, but they are clearly looking like the third best team so far. I think they will pick up win #1 easily against AMF next week." -- TO
Tirri
"He's still a threat based on having a high ceiling, but he makes bad decisions often now and obviously his bc ability isn't anywhere close to his all time high. Is his bad decision making due to care? Probably, but it doesn't change the fact that it happens often." -- Asmodian
"Tirri is among other smart players with decent to good bc abilities, which means he won't be quite in dictator mode because he'll expect others to help carry the metagame weight. This might let him bc a little more freely, but will also act as a natural dampener on game awareness." -- WWO
"best European, best trow, best everything, best father probably, mostly honorary " -- LSO
"I think I'm probably 5 balls after a little practice but with my recent results I can't rate me 5 balls even if I feel the balls in my heart of hearts. With the new preset controls and me only showing up for tourney games in half a decade means that I don't have the controls in my spine anymore which also leads to bad map aweress and not following chat. Am I motivated enough to shed the rust? YES I AM" -- Tirri
Coca-Cola
"Who?" -- Tirri
"maybe I rated him too low. He's a solid player, but he has a lot to learn about the game. He might be good with more experience." -- Asmodian
"he's a great player BC or 2t, even though none of you know him hes great to have on a team" -- LSO
Cruniac
"I think the thing that allows him to be in this top tier with EW & Arzenic right now is being one of the few really good players that has an aggressive play style. Sometimes this style makes him have bad games, but other times he carries the team because of it." -- Asmodian
"5+" -- WWO
"great trow, great archer, overall great BCer, not as good 2t as EW or tirri" -- LSO
"Godly ratios every game. Can not comment on his decision making but he has shown enough to be trusted with any power unit sets." -- Tirri
DBSeeker
"You really are a dumb half-nigger seeker, but I guess it's better than being a full idiot." -- Pogue
"Seeker is another player who I think I've played a lot of games with but really don't remember any games with him doing anything. Is that good or bad? For some reason I'm still edging towards 4-3.5, not 3, let's call it my gut instinct" -- Tirri
Myrk
"myrk (along with me, east wind, ghengis, and 2 others) was in the finals of the last actual ffa tournament that was played, around 2012 I believe. Ghengis ended up winning it." -- GKG
"Clutch player in Asmo's Draft Tournament 2015, stepped up to deliver Limp's team to victory." -- Switch
Garnish
"(wonka) - I kinda know who he is but not really. I don't dislike him at all which is super rare. Garnish don't let me down this tourney" -- Tirri
"low 2 kind of bad but fun spirited and he didn't fail to hard for NI this year" -- LSO
WWO
"My motivation is horrible, other than not wanting to suck with my own units, so I'm rating me in the captain's role. ; 3-" -- WWO
"wwo had to lead BT in mwc, hes a good player, and he understands Homer's Defense Abilities" -- LSO
"Not quite a 4 baller but at least I do remember facing him in games and never recall him crumbling. So higher than the 3.5 ballers but not really 4 balls in my eyes either" -- Tirri
"old man wwo will always provide you some decent play." -- Asmodian
A Mighty idiot
[youtube]https://www.youtube.com/watch?v=1N2suHXJINE[/youtube]
"Technically third in the standings, but probably the worst team in this tournament. This team has had a penchant for attracting drama in both of their matches. They are still in this tournament though, so I urge them not to forfeit against Care next week." -- TO
ZAK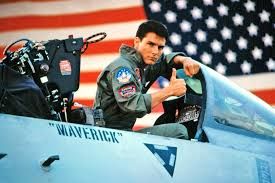 "4+" -- WWO
"Solid Myth player. Worked well with Seeker in almost leading Noobs Inc. to victory against Syn. Very good at juggernauting, and heavy unit mixes. Certainly better than Trev who rates as a mid 3 ball player. Lead captain for TWF and doing a great job of it. I've heard rumors that rabican will let him be primary NP cap for their return in Deadhold." -- DBSeeker
"ZAK ZAK ZAK ZAK ZAK, one time zak lost his soul and he hated humanity, gotta love zak" -- LSO
"He might be the best of the 3 ballers. He's a solid all around player, but he is going to wow you with his play." -- Asmodian
"See seeker's TA. Except for some reason I remember several big screw ups from Zak. Still I kinda feel like 3.5 is more appropriate than 3" -- Tirri
"I wonder what the greatest of all time, MWC 2016 victor and
captain
,
Limp
, is thinking right now. Luckily, as the games I'm about to describe are being played, I'm playing against
GKG
in the 1/2 Men vs Horses match, so I can reassure you that the over-rated no talent triple land wighted rawr killer wow playing mazz
flame warrior
was
rustling
at exactly this moment (if not chimpin: we lost 4-1)." -- Switch
Father Xmas
"He will gift wrap you good ratios." -- Asmodian
"2=" -- WWO
"My fever is rising again and I'm growing tired. Before father xmas used to be even less than 3 balls but I have no idea if things have changed lately." -- Tirri
"low 2 xmas is notoriously bad, but he isn't as awful as he used to be" -- LSO
Garrick
"Ska #2, but less of a strategist, he is good at BC but not good with crowds" -- LSO
" I wish Garrick would take me to ice-cream" -- Tirri
"Good clicking abilities, but not someone who will carry a game. Average eye for 2t play." -- Asmodian
Gekko
"He is a player I had normally rated as a solid 4 baller in the past. I still rate him at that level all-time, but it seems too often that not he comes out with average dmg ratios when he's suppose to be a top 10 player on myth. Overall a player you can trust as far as game type and smart play though." -- Asmodian
"Gekko is caught between role and leader here. On a lesser experienced/intelligent team, he'd be able to step up to 4=, but here he will be forced to pick between wide or narrow focus." -- WWO
"still active which is amazing given he is an NP player, can pawn u in Finnish" -- LSO
"Active enough that his 4 ball skills are starting to transcend him to 5 ball status" -- Tirri
Some Loser
"rust, I know he is NP which is an auto 2 balls even being so rusty, I don't know honestly how good" -- LSO
"2+" -- WWO
"Just came back maybe he will be a low 3-baller if he gets active." -- Asmodian
"The .1 is for old times sake. It's hard to tell about SL's level now" -- Tirri
Akira
"A decent role player, but he won't overwhelm you." -- Asmodian
"akira can get angry and unreasonable, but with a clear head he can do some dmg (except against asmo)" -- LSO
"He used to be 4 right? Although i hardly remember him doing any power hitting against me. He has been inactive right??? Minus -0.25 balls" -- Tirri
Trevelyan
"He's not a player that's going to force game winning plays. If he has the right unit set though eh can provide you with consistent solid play as a role player." -- Asmodian
"for being inactive so long, I am surprised trev is as good as he is, good BC and 2t aware" -- LSO
"Might even be 4 balls, hell if I know. Played a couple of games and saw no glaring mistakes. Will probably do a solid job with a small set of units but no idea about his heavy hitting skills." -- Tirri
[youtube]https://www.youtube.com/watch?v=95AR87ciruc[/youtube]
The games:
1v1 game to decide map picks
Garnish
plays
Some Loser
on Gimble.
Garnish
wins. Care picks Barrens, LMOTH first.
[youtube]https://www.youtube.com/watch?v=K0THlFXmB4w[/youtube]
Barrens, Game 1
Akira
captains for idiot, and
Tirri
captains for Care.
Trades here: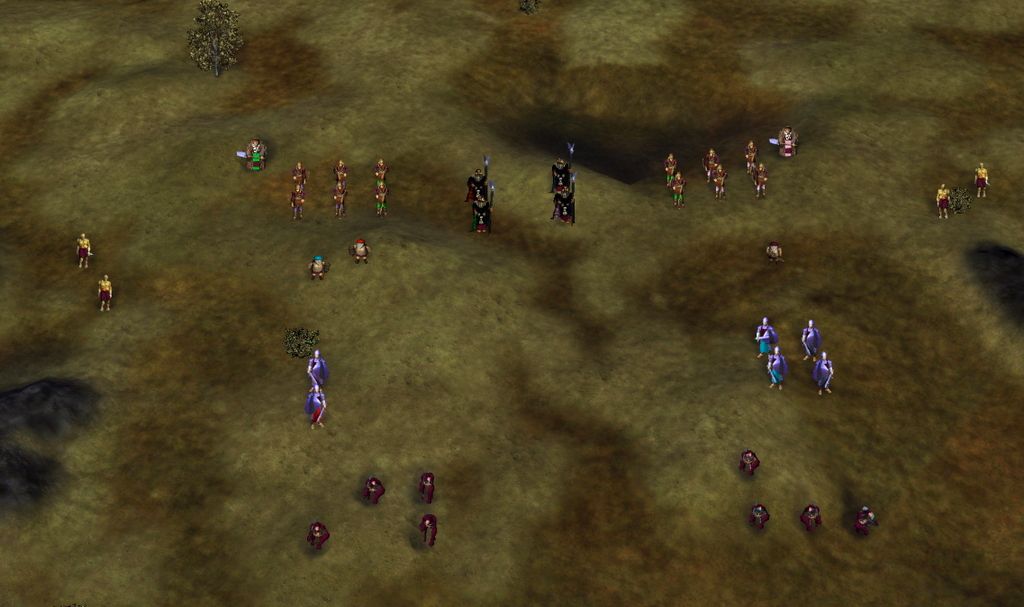 So as you can see,
Akira
gets only 1 journeyman and 1 more mortar dwarf.
Tirri
gets two extra ghols, and doesn't waste any points on thrall, picking up more warriors and an additional journeyman instead. Inexplicably,
Akira
gets less puss (3 wigs to Care's 4) and it's pretty obvious this game is already over, but who knows?
Tirri
splits his forces, sending
wwo
the west and
coca-cola
and
argos
to the east. Instructions:
Here's what the deployments look like when the teams get mid.
Some Loser
kills
Cruniac
's warlock, but the warlock trades for
Some Loser
's mortar.
Cruniac
expresses disbelief.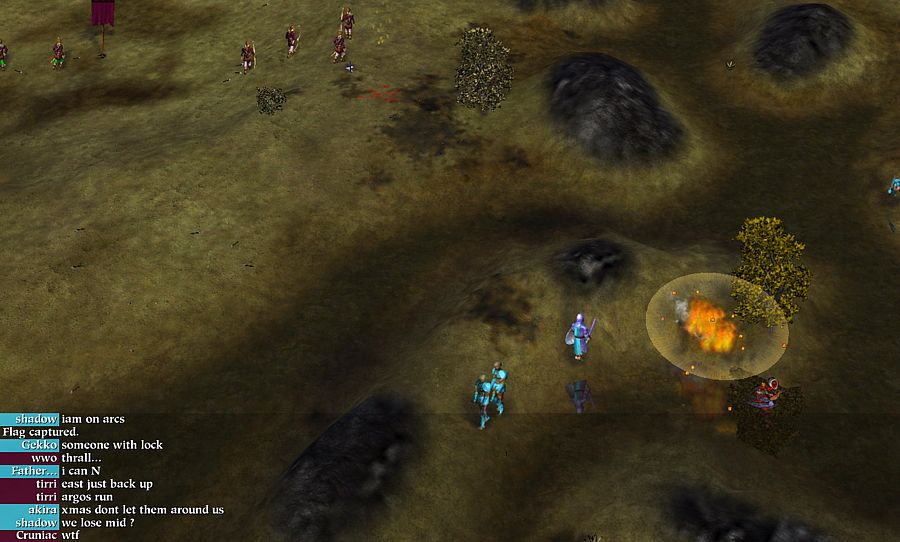 Trevelyan
fucks up
Garnish
's archer, while
Myrk
and
Seeker
trade arrows. AMF is up about 2%, with 7 minutes remaining.
Cruniac
and
Some Loser
continue to duel,
Cruniac
causing
Some Loser
to waste his pus here.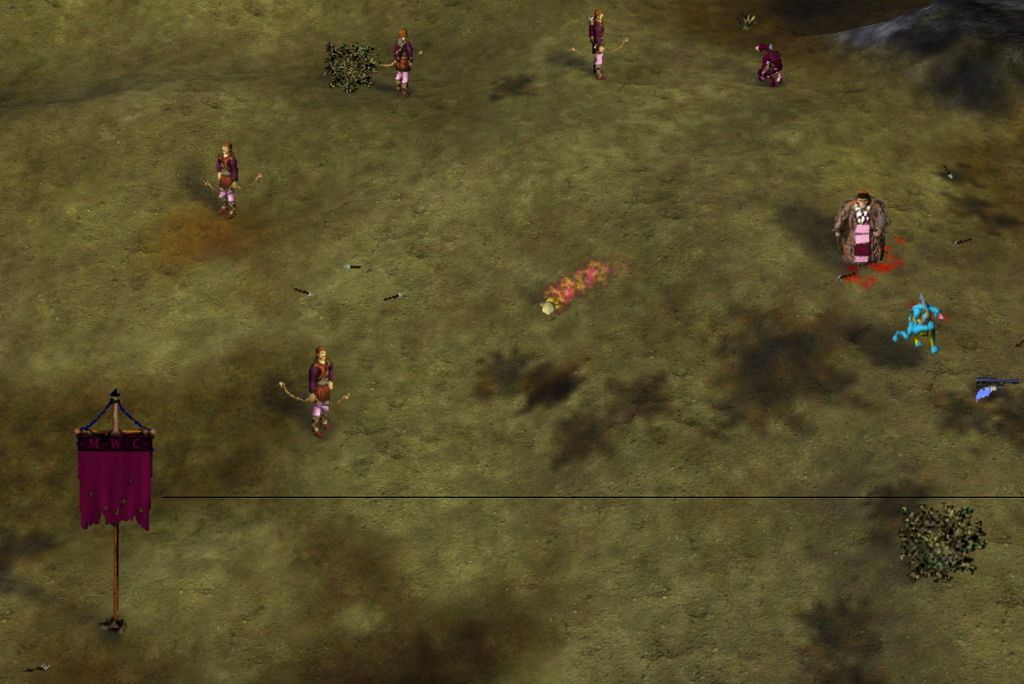 Myrk puts down some fire arrows on Seeker, blowing up Seeker's mortar with his warlock shot. Care is now up 5%
WWO's
extinguisher
lays the fatal blow on Xmas' warlock, before being put down by Some Loser's thrall. Care leads by 12% with 5:45 remaining.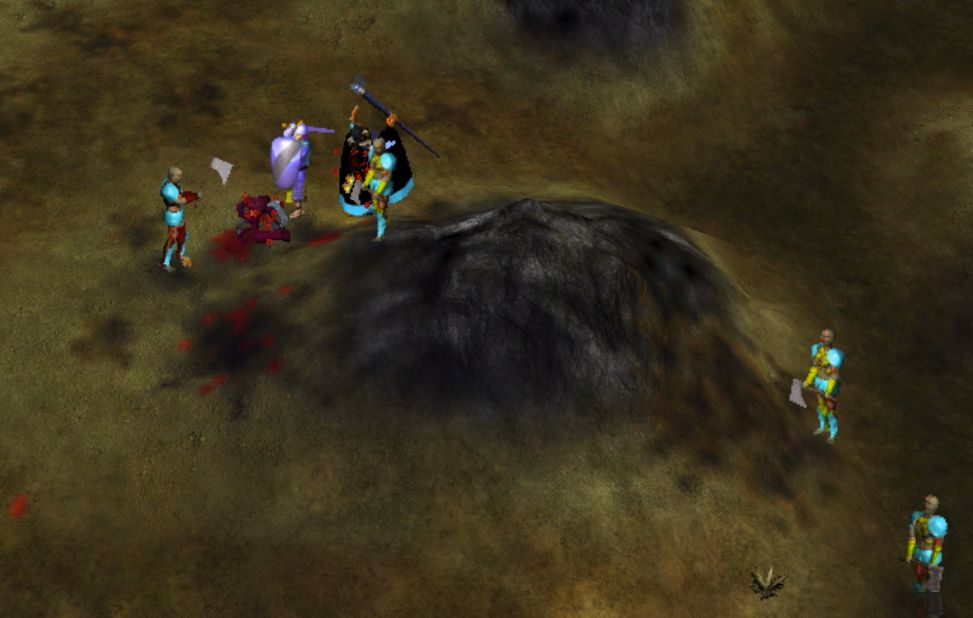 I didn't see what happened here, but it looks like AMF lost another warlock to some kind of pus shot, expanding Care's lead to 18%, only 15 seconds after the previous disaster for idiot.
Myrk snipes another Care warlock- only one left now- all of this happening within 1 minute, and it's now a 22% lead for the Tirri team and this game is over.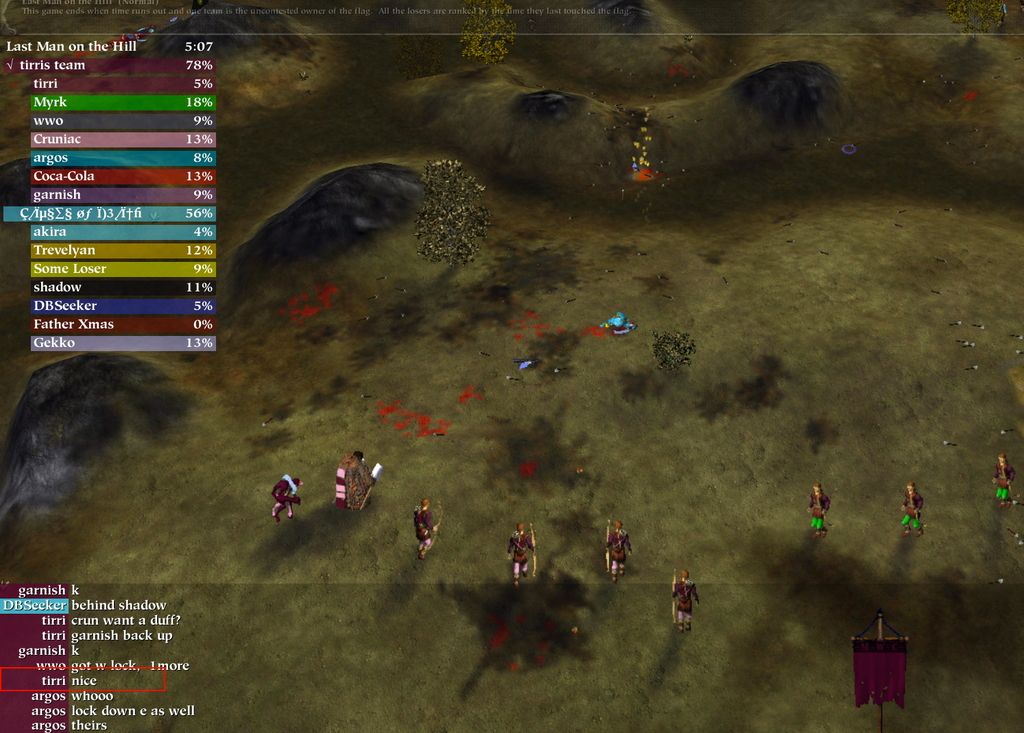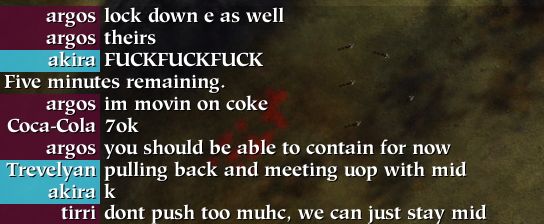 Clash, Game 2
Akira picks. Nevertheless, Tirri and Care wins again.
Caer, Game 3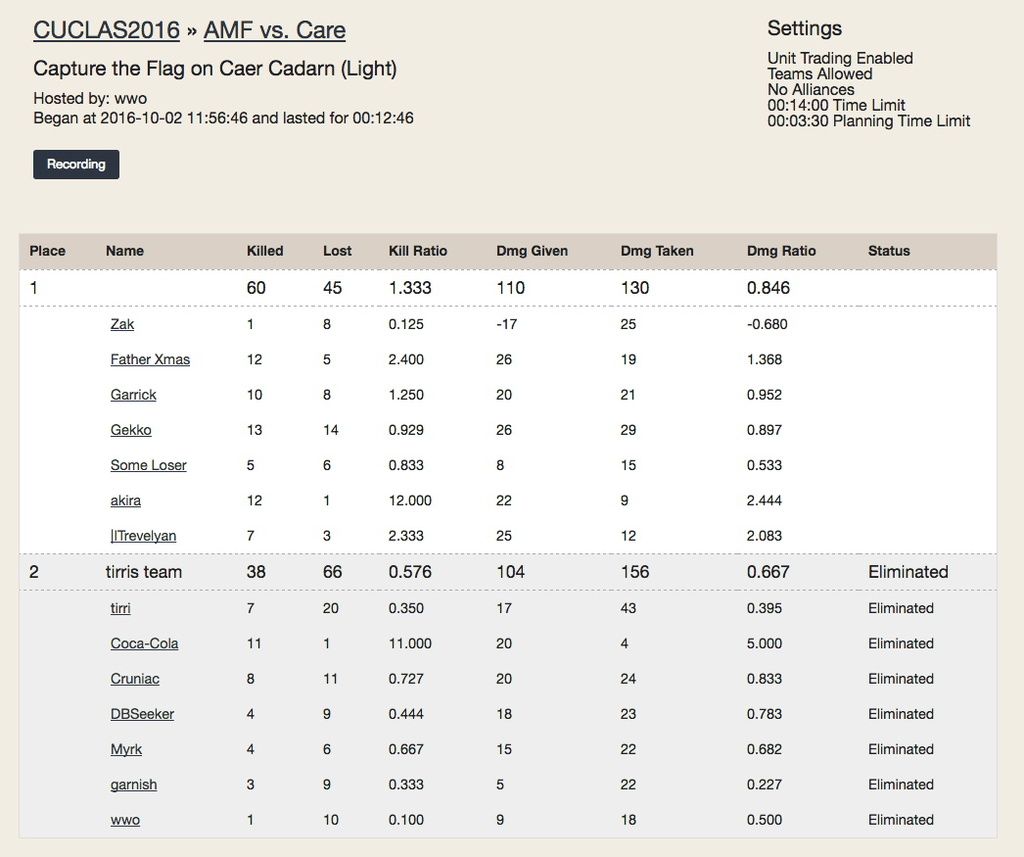 [youtube]https://www.youtube.com/watch?v=QOjZjqnO50A[/youtube]
ZAK arrives to captain, late but better than never. Tirri's pick this time, but ZAK wins.
Desert, Territories, Game 4
AMF picked. The score is currently 2-1 with AMF facing elimination. They need a win to stay in this.
Here are the trades: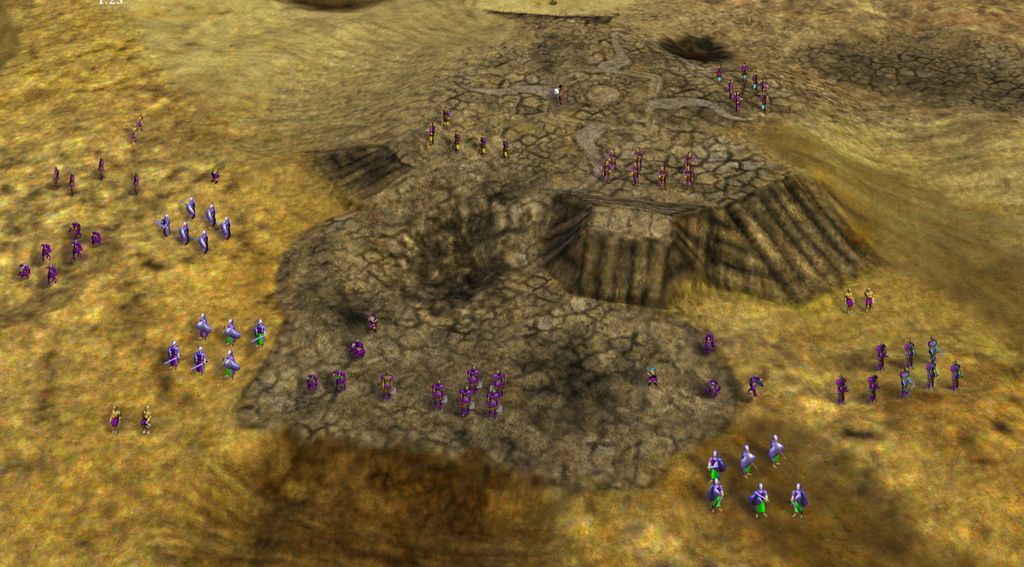 ZAK got thrall. The trades are otherwise very similar, Tirri got 3 more ghols, but Care traded for extra archers. Will this be the difference?
Tirri spends the last few seconds of planning time strategizing, while Gekko listens to some Finnish metal-rock. Zak is feeling confident, and Cruniac forgets he has to heal wights, giving team idiot an early advantage.
In the north, WWO is outnumbered by Some Loser and Akira. So if there is a weakspot in the Care dispositions, that is it. Otherwise it looks like this: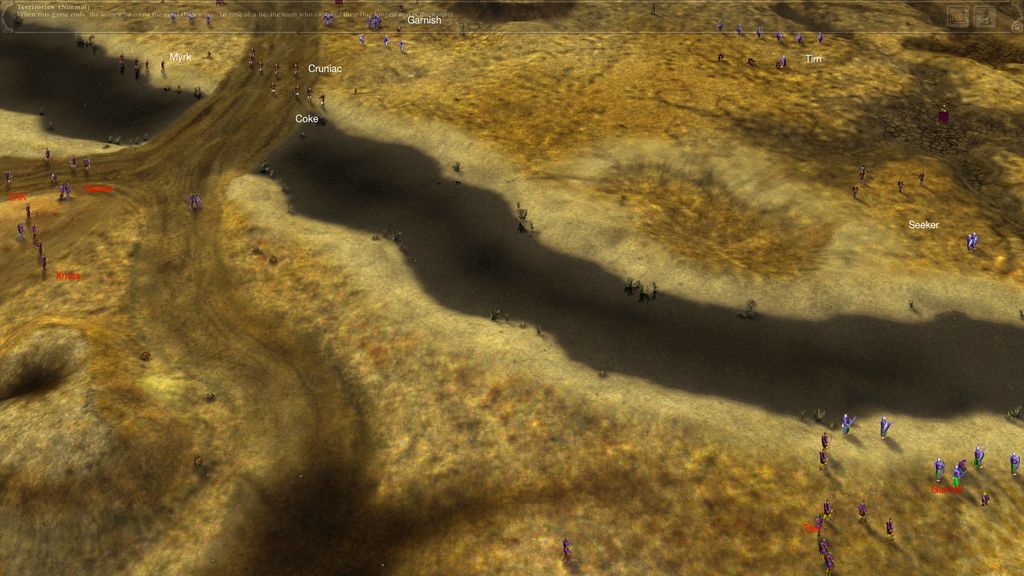 The archer battle starts mid, and Myrk moves to backup WWO North. ZAK realizes that Care is outnumbered on the flanks and orders a general advance. As we can see here, Trevelyan and Garrick are already rushing, Tirri pulling back calling for Garnish to support.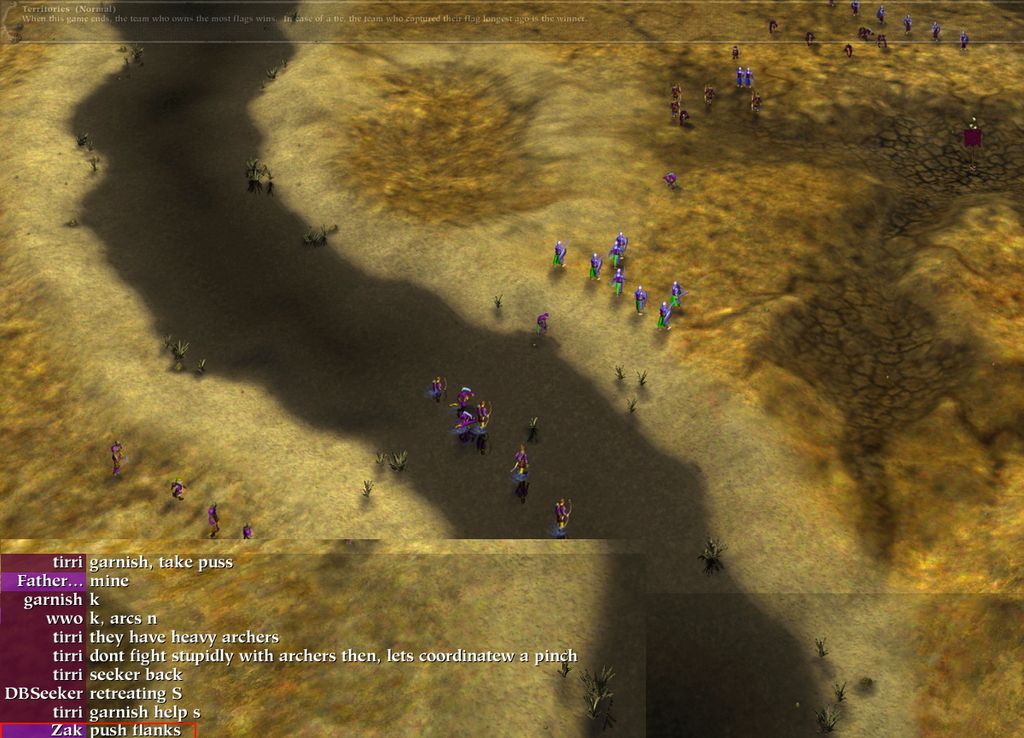 AMF pulls back though, Zak and Akira changing quickly to a hold strategy as Care adjusts. % even. WWO and Myrk move some warriors to the mid, expecting Tirri to adjust south as Garrick and Trev are now being supported by Zak. Cruniac keeps up the archer battle, but the order comes to focus south, and Coke is off to support.
As you can see, Zak is not sure about the prospects for success in the south rush, although at this point he's committed with the south force.
This is the decisive moment. Gekko notices that Tirri has moved stuff south to focus on the ZAK flank, and recommends a push. Xmas and Akira and Gekko move across mid, with only WWO and Cruniac in position to block.
Seeker duds on a crucial pus against Trevelyan (and I think Tirri kills Seeker's ghol with his own pus in another major error), although Seeker gets away with it because he snipes the duff with his arcs a few seconds later. Meanwhile, Cruniac recommends that WWO stay mid, which is sound advice in this situation. Care is down 5% with 7 minutes remaining.
So at this point Care is actaully up 2% and controls 4 to 2 flags. But desperate times call for desperate measures. Tirri is obsessed about the mid situation and is moving his and simian Seeker's war packs there, even telling Myrk to fall back as well. No doubt planning some kind of mid rush, but Zak knows exactly what is happening and now has the tempo in his favour.
So yah Care assembles their mid rush which is a huge mistake. ZAK is down 6% but about to cap all flags. Only north east remains, and there's nothing defending it for Care. 4:20 blazeit remaining.
Cruniac and Myrk recover mid, and Seeker managed to tag AMF's mid, so it's 3 for 3 at this moment. Coca-Cola foolishly asks for units from Myrk, perhaps not knowing that there is zero chance Myrk would ever spare him units. Likewise, Akira also asks for some units which he will not receive. A laughable display of ignorance from players who are supposed to know that their teammates will
never
hand them ratio units even it means losing the game. After all, it's
their fault
they have no units now (they must suck) and therefore only fair to
never
hand them spare units in a situation like this.
Myrk quickly loses his spare arcs and duff by suiciding to Trevelyan, making sure he couldn't possibly have use the assets better elsewhere. Akira suggests it might be wise to take a few thrall and tag out Tirri's team (who only have 2 flags, one unprotected). As if Some Loser would ever spare anything to "Akira". %s are nearly tied at 25, with 2:30 left.
Anyway, it gets so bad, Xmas has to remind Some Loser that he could win the game by tagging north if he'd have given Akira units 2 minutes ago.
Anyway, Garrick and Some Loser rape mid and with 1:30 left and 4:2 flags favouring ZAK this is over.
[youtube]https://www.youtube.com/watch?v=nLX0ZemFrKU[/youtube]
Keep, Game LMOTH 5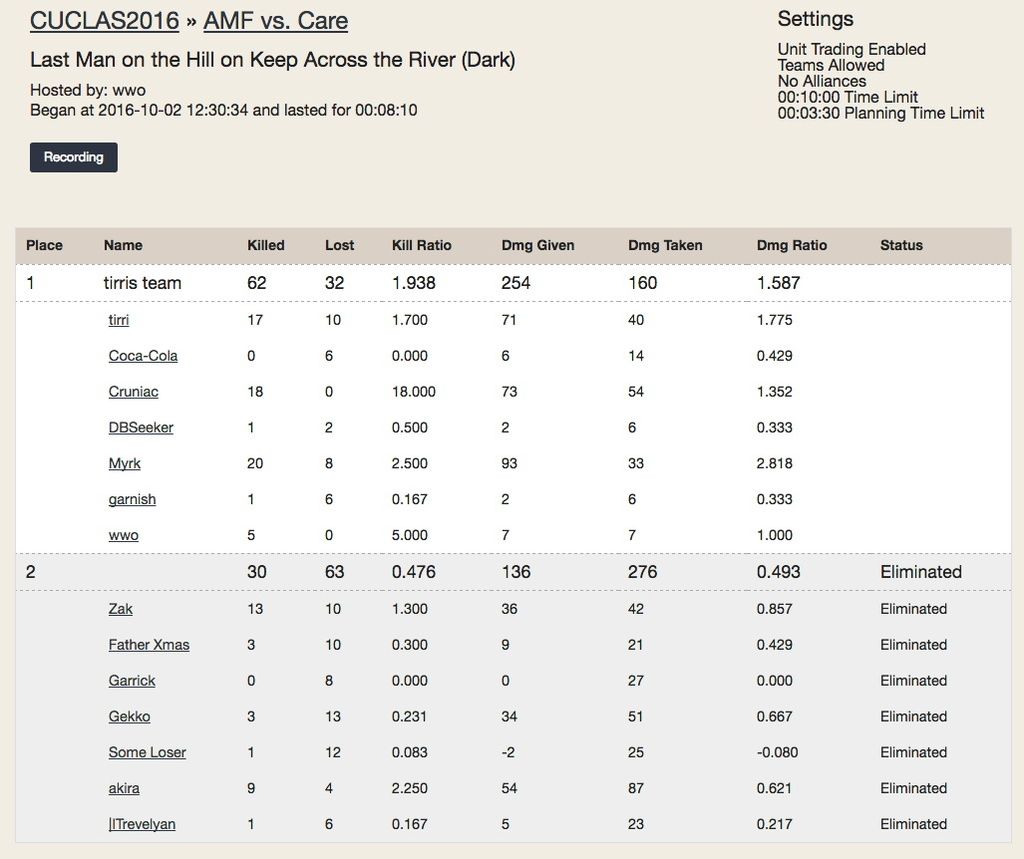 This is the deciding game. Tirri & Care picked. A Brutal, no holds barred pick.
Trades:
ZAK got 1 dwarf (vs 2), not bothering with pussy spiders, which Tirri traded for more than 20 of. idiot opted for Myrms and wigs, both of which Care minimised. It's Last Man On The Hill, with Akira trowing for AMF and Cruniac trowing for RFSM so who knows which trade and strategy
really
was superior? But it was Tirri's.

This is what you got. Naturally, once both sides have plowed into mid with no scouting, other than Xmas' single wig north, this devolves into what Spartans called a shield battle. Truly the two nearly identical, yet slightly differentiated, sides will be able to match their respective team skills and prowess against one another now, in a classic heroes duel, not much different from Achilles fighting Hector before the walls of Illium. Surely only the greatest MWC / m2sbr players of all time will prevail.
As you discord chat fans might expect, they fight.
This is what it looks like in the initial battle phase (if this doesn't make you tear up a little, you might want to retire for No Man's Sky, or WoW). So amazingly, Akira pulls back and doesn't continue to pummel Cruniac. Akira comes out mathematically on top with no trow heavily damaged, not even close to worse than Cruniac's "NAZI™" who is ironically deeply red. Cruniac. Do you really think young Kirk was clever? (protip: he wasn't- ask him about government monetary inflation).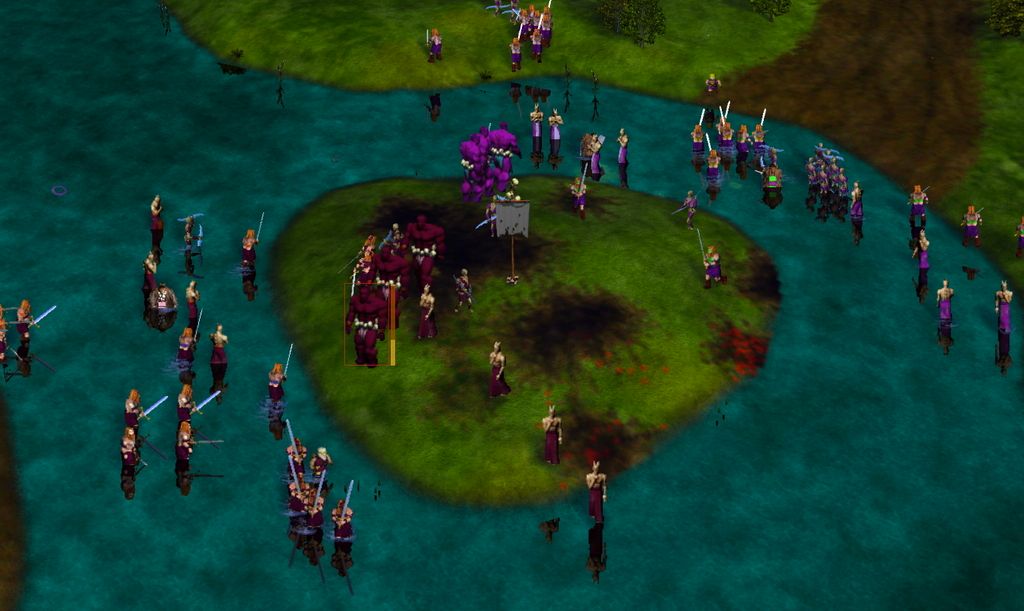 They shoot lighting bolts at each-other.
It get's intense. Care takes an early lead, up 8%. Tirri and Cruniac fuck up Akira's trow, so that the AMF advantage is flipped, with Akira now down 3 red trow to Crunaic's two. Not a bad little MANEUVER.
The pressure in this kind of contest is difficult for a normal man to fathom: Anyway, this is over within a few seconds.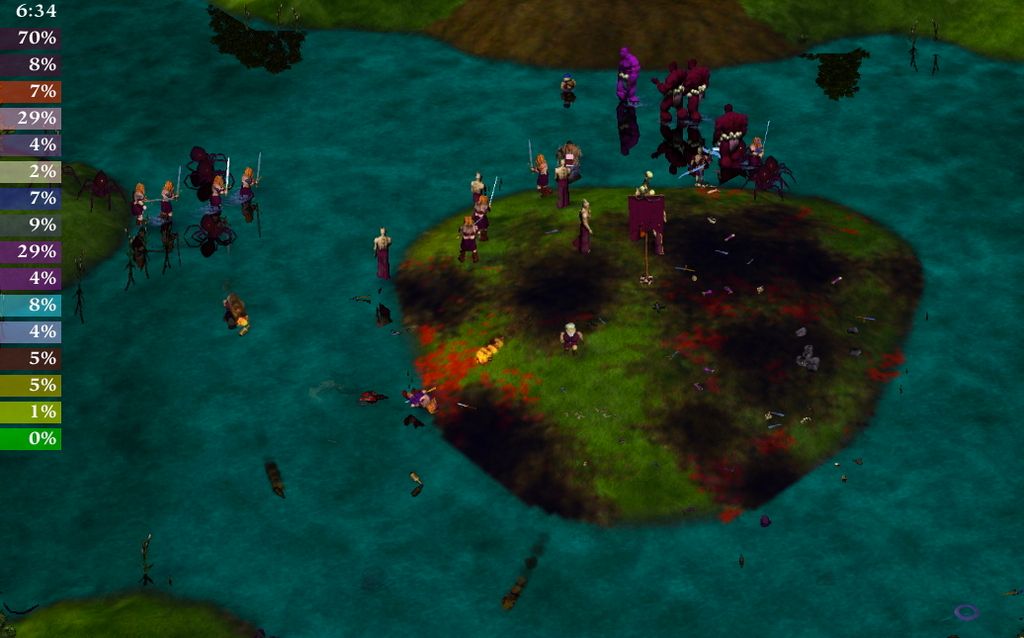 Care defeats idiot, 3-2. The numbers do not lie. The end.
Stats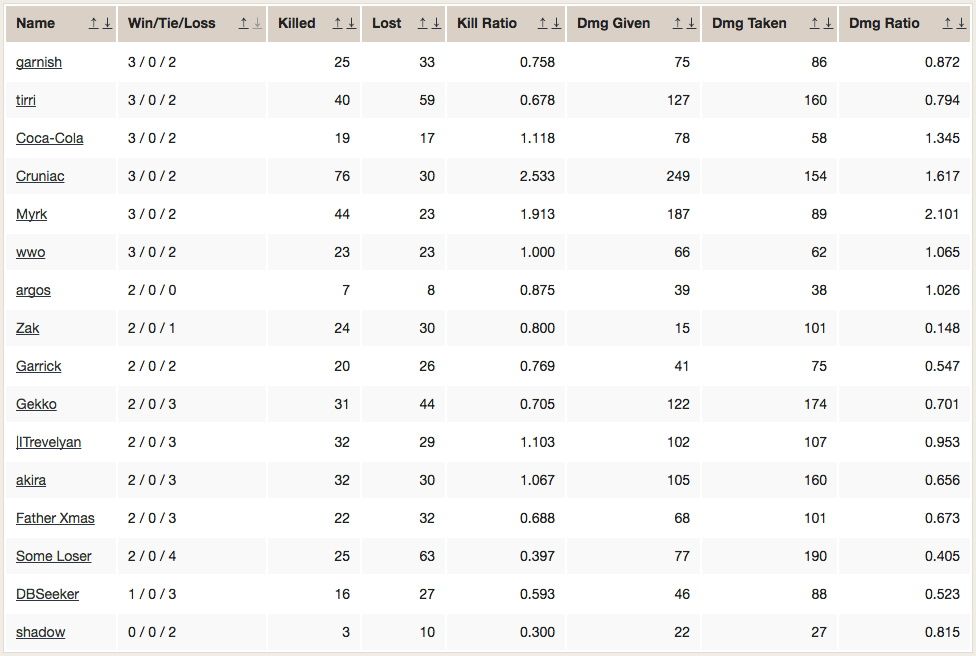 [youtube]https://www.youtube.com/watch?v=NRXKkUhe_B0[/youtube]