Switch's
Double Elimination Round Two
,
Masters of Myth
vs
Teenage Mutant Ninja Turtles 2.0
,
GAME SIX
,
Three Game Review
"What king, going to make war against another king, sitteth not down first, and consulteth wether he be able with ten thousand to meet him that cometh against him with twenty thousand?"
[youtube]https://www.youtube.com/watch?v=a3nGztzo6Dk[/youtube]
The d0ng power tournament
is actually underway
and producing interesting results. Asmodian has prepared rosters for his All-Star™ player post-MWC tournament as we speak. Obama is literally trolling people on twitter. The Republican presidential campaign is a catastrophe. Putin is bailing out Greece to troll America and Germany. Team USA and Team EURO are soon assembled to defend the honour of their various federated regions in
Myth 2: Soulblighter
online virtual combat.
[youtube]https://www.youtube.com/watch?v=FMrIy9zm7QY[/youtube]
In this epic rematch, Myth World Cup defending champion and contender teams faced off, with the potential of a bottom bracket final match with Name Changers Resurrection (NCR), fresh off their 4-1 victory over the, Master Chief captained, team DEER, hanging in the balance. The DEER squad managed to win a game on Hvergelmir - Light, CTF, otherwise, Paris and Garrick basically demolished the DEER roster, even with Pallidice subbing. New Mutator covered that game,
here.
This was a much needed turn-around for NCR, having been out-played by Ratking and Company in DE1.
Progress of MWC 2015 so far...
Ut Omnes Veniant
NCR vs MoM, DE1
NCR vs DEER, DE 2
What followed was a relentless duel between the opposing teams, with Ratking and GKG battling it out for an epic six games to a sudden death tie-breaker on Desert with full 8 vs 8 squads.
Here are the MoM vs TMNT 2.0, DE2, games...
In this review I look at the decisive, concluding, games. Before we review the games, let's examine the teams as they appeared on the critical sixth game.
Teams:
We've encountered the adolescent new mutated Samurai tortoises twice before. Some new warriors have joined and others have gone...
Generally Killing
GKG and the myth professionals...
Giant Killer General
"5 Ball ( GKG = GIANT KILLER GAY)" -- THOR
"GKG recently captained team TMNT to MWC 2013 victory against Agents. in TWS14 GKG played on the victorious VS team against team THOR, sweeping WTC." -- Switch
"The Black Knights of Myth are a feared lot. Known for their 1v1 prowess and unquenchable thirst for blood, these killers are a force to be reckoned with." -- Adrenaline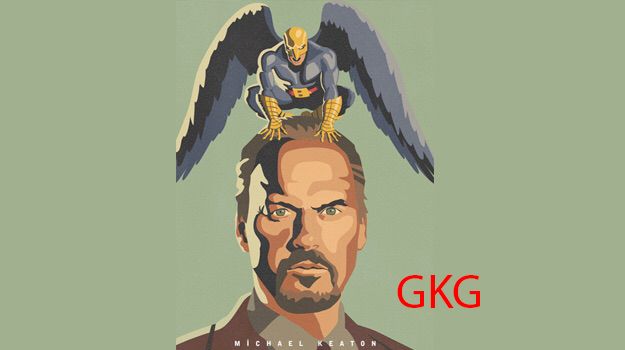 The fickle Myth gods unleash GKG on another unsuspecting rabble FFA team
[youtube]https://www.youtube.com/watch?v=FI1ylg4GKv8[/youtube]
HMP
"three .3 balls" - Asmodian
"Official Tight Guy 2015 team member" -- Switch
Helicopter Monkey Pilot is brought onboard.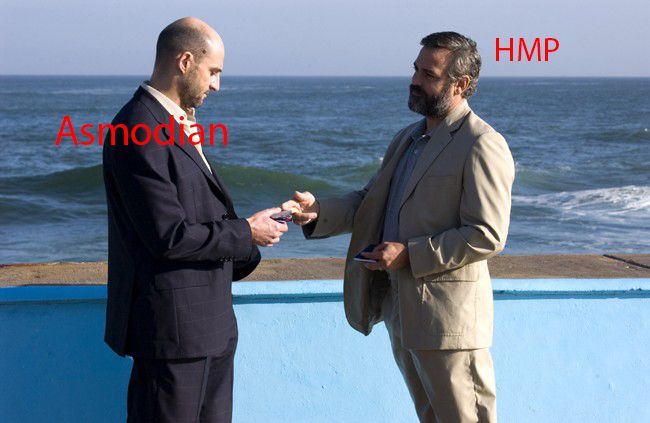 [youtube]https://www.youtube.com/watch?v=Gv8hCj5P40g[/youtube]
Cruniac
"Crun has really risen up to the challenge in the past few tournies and has become a really solid player. " -- Adrenaline
"Cruniac/Chohan has played about 400 games on GoS and won ~260 of them, with a kill ratio of 1.16." -- Switch
"His best skill set however is riling up a player from the other team " -- Asmodian
[youtube]https://www.youtube.com/watch?v=DcsirofJrlM[/youtube]
Asmodian
"3 Ball (He seems to play in the team of leeches of Fool) " -- THOR
"Trow belt who has yet to win a trow battle on clash LMOTH. why do you even rate yourself man? you're not that good LOL. 3 balls. PS: Your team is not good." -- Falcon
"He's definitely put together a good roster here... let's see if he can lead it to victory! Guess he's earned a 4th ball!" -- Adrenaline
Asmodian seen here receiving orders to prepare TMNT 2.0 in early 2015.
[youtube]https://www.youtube.com/watch?v=9qK7cweKy64[/youtube]
East Wind
"dude has a good head on his shoulders. He is solid and consistent and can hang with the best. 5 balls." -- Adrenaline
"edubs is the cream of the 'cop' when it comes to the 4 ballers. The thing that sets him apart from most other 4 ballers is that he sees the game as a good captain would." -- Asmodian
"East wind is Sri Lankan and still sucks at cricket! =/
I once asked who is the best ww2 turned myther? Everyone responded EW! No doubt about that, you sir are 4 balls of genuine skeel." -- Falcon
"The Knights of Myth are the noblest of warriors. Highly skilled, the Knights are ranked above the common soldier for continuously proving themselves on the battlefield. These men are respected veterans with years of experience. Some are heavily decorated, with many tournament victories under their belts. Among these men are accomplished captains, strategists, heavy hitters, and top-notch role players." -- Adrenaline
[youtube]https://www.youtube.com/watch?v=vNFft6r6Des[/youtube]
Captain
"Captain conceded his chance at his 4th ball somewhere back in early 2000 when he became a member of Cadre." -- Asmodian
"Captain played on TEAM ZAK (TMNS) in MWC13, making it to DE4." -- Switch
"Cap is probably one of the most underrated players in the game... he has been a very solid player for NC in the past few tournies." -- Adrenaline
"3 Ball ( he suck!!) " -- THOR
[youtube]https://www.youtube.com/watch?v=qVhCNgct9JQ[/youtube]
dac
"David, sup, you're back I suppose? Pretty cool guy to talk and play with! Solid role player, time to shake off the rust. 3 balls." -- Falcon
"Despite the power of his words he once lost a flag to 1 injured warrior with 2 green thrall in game 1 of a MWC finals" -- Asmodian
[youtube]https://www.youtube.com/watch?v=gBBrd3pQblg[/youtube]
Kryptos
"Still not sure who he is, but seems very dedicated to keeping up the charade. My guess is Cyclops. Anyways, he is a capable player and probably worth of 4 balls." -- Adrenaline
"Rumor also has it that once the curse of Myrk was broken in 2013 that the curse latched onto the nearest soul, which is rumored to be Kryptos." -- Asmodian
"Kryptos and WWO played for Agents in the MWC13 finals. Kryptos, last active on May 3rd, has 840 games played, 540 of those victories and a kill ratio of .889." -- Switch
[youtube]https://www.youtube.com/watch?v=-0v86LFvsp8[/youtube]
The contenders:
GOD'S POWER
The Legend of the Masters of Myth
[youtube]https://www.youtube.com/watch?v=U0wQXw-UtSE[/youtube]
Ratking

"4 Ball ( she 1 year afk games ) " -- THOR
"aka 'Ratnig' 'Ratqueen' 'Metallica' and many other derogatory statements. Former leader of the r3 group that was never really a contender in mwc standards but still managed to win tws." -- Ratking
"Cap of last draft and winter series winnin squads, Mr. Mike has turned out to be the mose versatile caps of modern day myth, starting off with mango and golem on R3, he has grown quick and fast to be a challenging captain. 3 balls + 1 for the awesome stratigizing skills." -- Falcon
"Rat has always played with decent teams for MWC, but finally was a member of a contender last year. Did the taste of blood spark something in him? He's not a top level player, but not a pushover for anyone, either." -- Adrenaline
Ratking engages care mode...
[youtube]https://www.youtube.com/watch?v=99ihhUR8lkI[/youtube]
Lizard King

"Kilg can hold his own with almost anyone on myth. I believe his weakness, as a tournament player, is too often being an impatient player." -- Asmodian
"aka 'Kilgrath'. Kilgrath and I go way back to the bungie days. I'm not sure if we were in the David Eddings order, but I know we were in Dragon Army. He was good back then and still is today. Strong player when it comes to mixed sets and power roles like trow." -- Ratking
"Many of them have tasted victory and will stop at nothing to taste it again. And I mean nothing. Legend has it that one once raped an aborted fetus while riding the back of an alligator" -- Adrenaline
"Kilgrath come to myth high on LSD. He is pretty st8 forward whether its hosting or killing. moves the thin line between low and middle 4." -- Falcon
FFA League 2014 Champion
[youtube]https://www.youtube.com/watch?v=kTt-2H5SntE[/youtube]
Shadow
"Lolki, bagrada, shadow, auto-win ? wtf? grammar issues make him thor look alike. He has improved but has yet to show skills in a major tourney, high 2 to mid 3." -- Falcon
"Bagrada had his one moment of myth glory in 2014. Now in 2015 he is better known for getting into constant flame wars with drunken deer." -- Asmodian
[youtube]https://www.youtube.com/watch?v=vpfN_4WdqUU[/youtube]
SlatE
"Runs around with tag of 'hyper' these days, slate is a euro myther who is decent. Has a good reputation but I've a fucked up image of him ever since he lost 3 consecutive 1v1s against me, like really? 3 balls." -- Falcon
"He is very good with his unit control in rabble games and 1v1, but it seems when it comes to a tournament setting he becomes unconfident in his decision making and his effectiveness drops dramatically." -- Asmodian
"Slate is well known for playing ffa and holding down high ranks on mnet. When I was building r3 one year I recruited him to play and he did well for having little 2t experience. That was about 2 years ago and he's been doing more and getting better." -- Ratking
"The common soldier makes up the bulk of the armies each tournament, flocking to the battlefields in large numbers. Many of the soldiers are highly skilled warriors who may one day be knighted, but many are simply bodies covered in armor, carrying weapons." -- Adrenaline
"Slate and Funk played for WTC against Agents in the MWC 2013 BB final." -- Switch
[youtube]https://www.youtube.com/watch?v=JmxK_pBaG4E[/youtube]
Rawr
"Rawr is a very capable player, sometimes. I've seen him absolutely rape shit, sometimes. I've also seen him fold like a wet towel. Has the skills to be a 4 baller, but needs to work on his consistency. " -- Adrenaline
"Rawr is reportedly selling his game of wars account for 2000$." -- Asmodian
"Recently he was with the resurrected wtc squad and they did well all things considered. Personally I think he was critical to their success. Has high motivation to win and improve as a player." -- Ratking
Ratking speaks with Rawr over Skype to discuss his role in the upcoming Bottom Bracket finals. Shadow and Ratking dispatch Rawr to headhunt Drunken Irishman for the finals.
[youtube]https://www.youtube.com/watch?v=VNiNNMYLsVc[/youtube]
Adrenaline
"4 ball (she deserves) " -- THOR
"Once noble knights themselves, the Black Knights were cast out when their egos became too large to contain, and are now hated by the general populace. They can be distinguished from other knights by their unmistakably black appearance." -- Adrenaline
"Adrenaline is not active these days but can play couple of ffas and get back into the tune. It's been a long time since your last tourney win adren, time to lift bro. 4 balls till he's active." -- Falcon
"aka 'Master Splinter'. Adren's history in myth goes back to the tfl days. I don't remember anything about that as I was very young and barely understood the game. He has mutiple mwc championships under his belt and is a great 1v1 player, finishing #2 in GKG's 1v1 tourney. His strengths are trowing and mixed sets, which he does at the highest level." -- Ratking
[youtube]https://www.youtube.com/watch?v=fIeSV4i7bxQ[/youtube]
Blonde
"Blonde once became famous for hosting rabble games during the myth off-season and became a well-regarded player at that time." -- Asmodian
"FFA Legend" -- Switch
Blonde fights off Milk Man's minions in a FFA League game.
[youtube]https://www.youtube.com/watch?v=bc4TpDTwsVE[/youtube]
Chron1
"Fellows desperately need dantski and/or chron to show up and fill in some of the holes in the BC power of the fellow's roster, there is simply just not enough depth in their roster otherwise." -- GKG
"Chron played for TMNS in MWC13, and has since then played 184 games (104 wins) for a kill ratio of 1.24." -- Switch
"The Berserkers are mercenaries of no known allegiance. They are blood thirty lunatics who will whore their services out to the highest bidder. Do not be fooled, these crazy motherfuckers are no pushover." -- Adrenaline
Chron1 and Kilgrath play some of Jon God's quarantine during a Garrick 3rd party night
[youtube]https://www.youtube.com/watch?v=UA8rcLvS1BY[/youtube]
These are the actual games. Authorities proclaim that these are the mightiest games of myth to date, ever. The teams no doubt employ unbelievable cunning and metagame, exhibiting near levels of superintelligence, before engaging in precision Myth 2 tactical battle requiring lighting quick reaction speeds, with down to the second timing. Only legendary super-men could possibly compete in this devastating m2sbr game environment.
GKG hosted every game. Asmodian stated in the rules that sudden death is determined by desert terries.
Game 1, Stalk, Light,
[youtube]https://www.youtube.com/watch?v=JP68g3SYObU[/youtube]
[youtube]https://www.youtube.com/watch?v=Y7vk4CyEskk[/youtube]
New Mutator coverage Game 1
Game 2, In Midst of Four Trow,
[youtube]https://www.youtube.com/watch?v=P-hj6xP6zu8[/youtube]
New Mutator Coverage
[youtube]https://www.youtube.com/watch?v=T-bhKxaZdOM[/youtube]
Game 3 Hverglermir, light, CTF
New Mutator Coverage:
[youtube]https://www.youtube.com/watch?v=d-aZezX_TPw[/youtube]
[youtube]https://www.youtube.com/watch?v=chCe67quwV0[/youtube]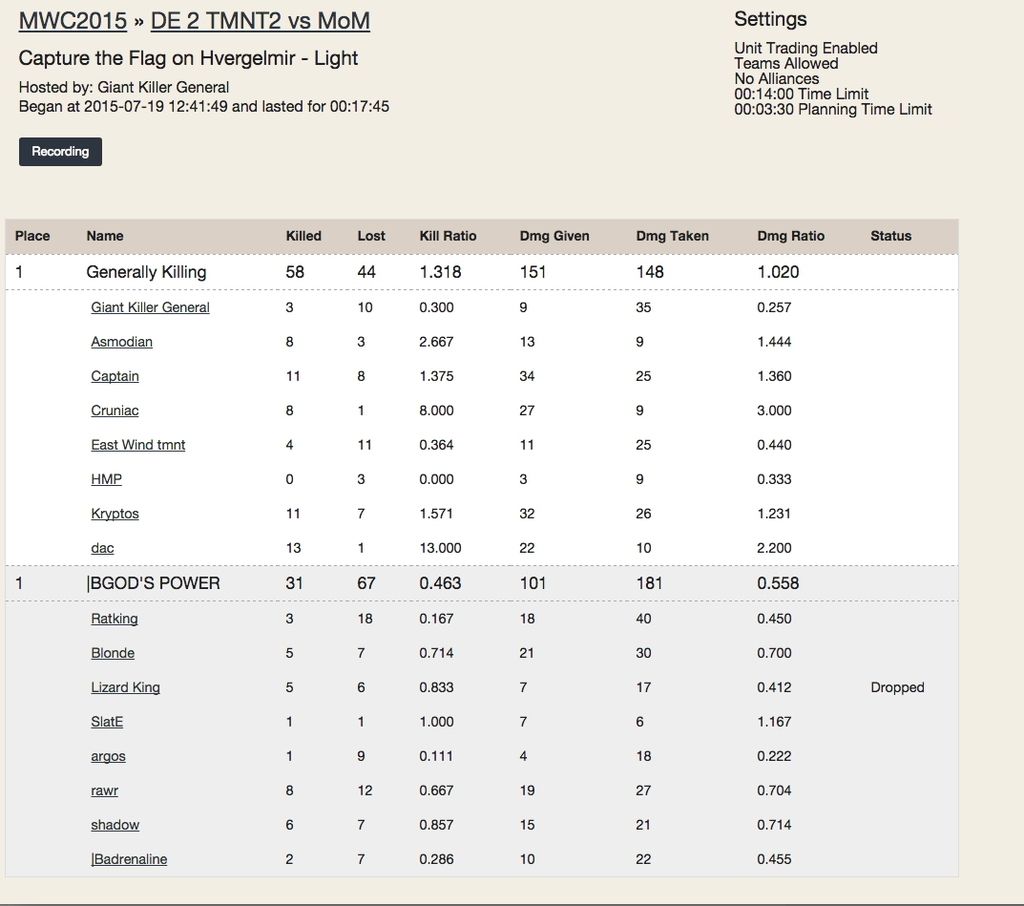 So we've arrived at...
Game 4, Acts Piety KOTM
When we join the action,
The match is currently tied up, MoM has won the first game, and TMNT followed up by taking game 2. Hvelgermir light CTF produced a tie which brings us to King of the Map on Acts. Observe the carnage...
You can see GKG's deployment here.
And Ratking's here,
Ratking moves the team mid. GKG is depending on a pus-bottle strategy with mobile forces converging against their targets. The first intended victim is Rawr in the south.
GKG orders north to push, as his herons are about to collide with Rawr's warrior pack. Ratking orders south to attack in the north. As you can imagine, it about to get ugly. The teams are essentially tied for time, puss abounds. Carnage is imminent.
West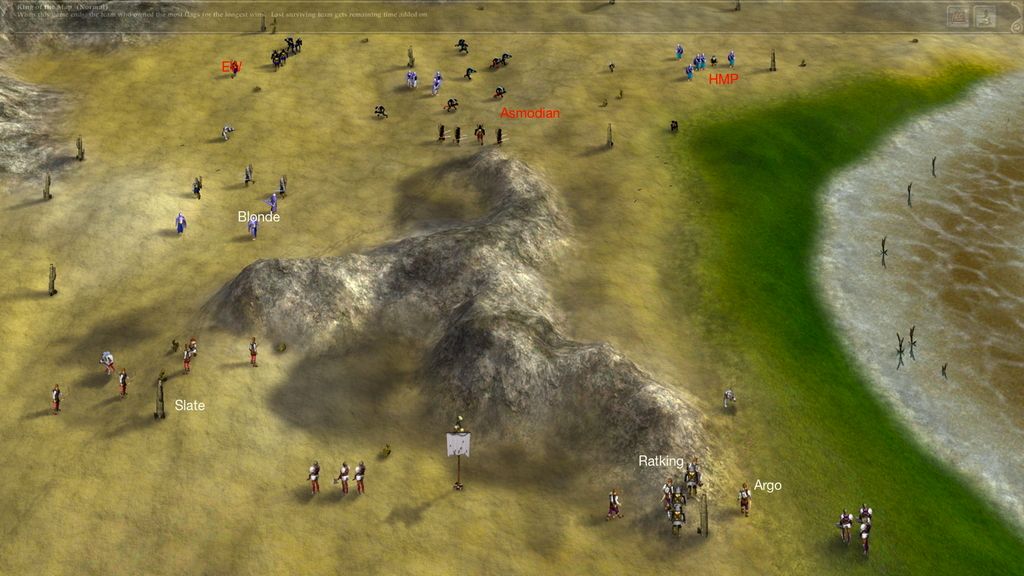 vs
East
Heavy puss goes down in the west,
Rawr comes in with Destroyer to attack stunned Dwarf
Tadi.
Will it be the first major loss of the game?
Unfortunately, for Kryptos the puss gibs
Tadi
and rustles the armour of
Five Obsidian Heron
. Nothing is happening in the north, as GKG awaits the outcome of Ratking's eastern rush.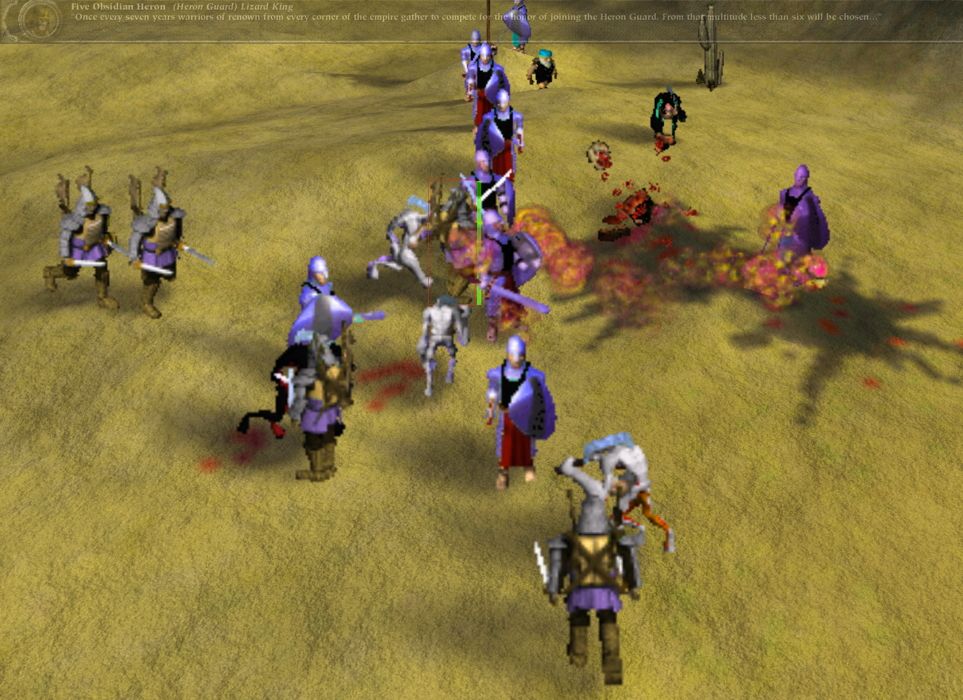 Not a lot happening north, just yet.
Five Monkey Bloody Stone
, controlled by Lizard King blocks Kryptos' dwarf attack killing the duff.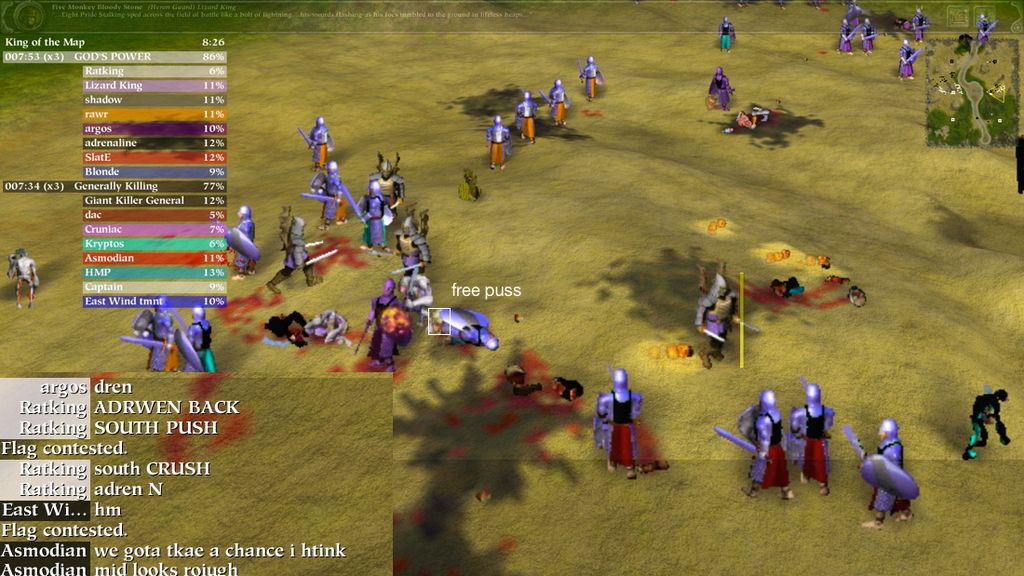 West TMNT closes in on the MoM position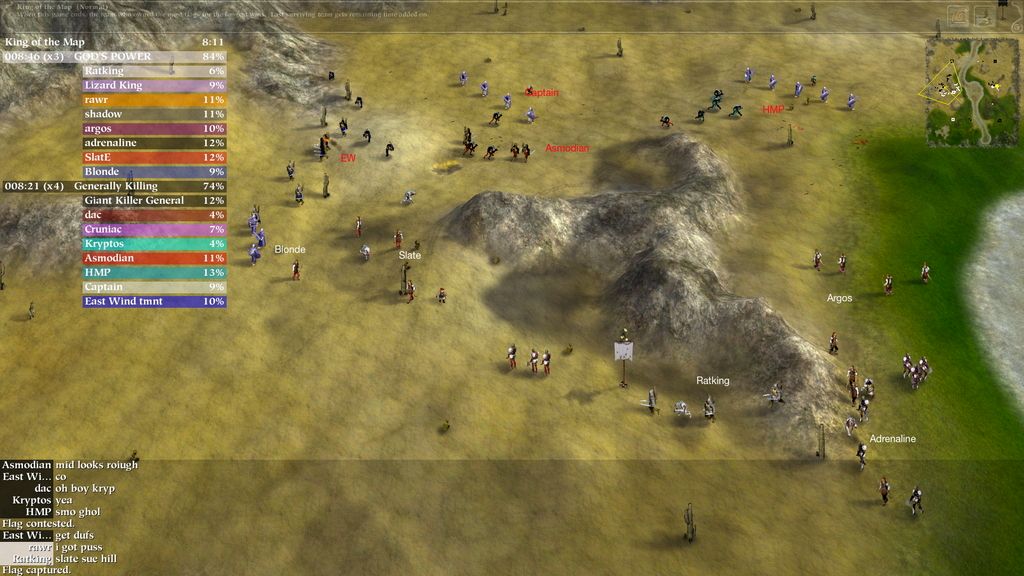 In the east the melee bloodbath begins as they collapse around the flag.
Asmodian and Blonde puss each other and SlatE suicides an archer with his dwarf
Jvalin
, who is almost also killed instantly. Ratking rushes to heal him.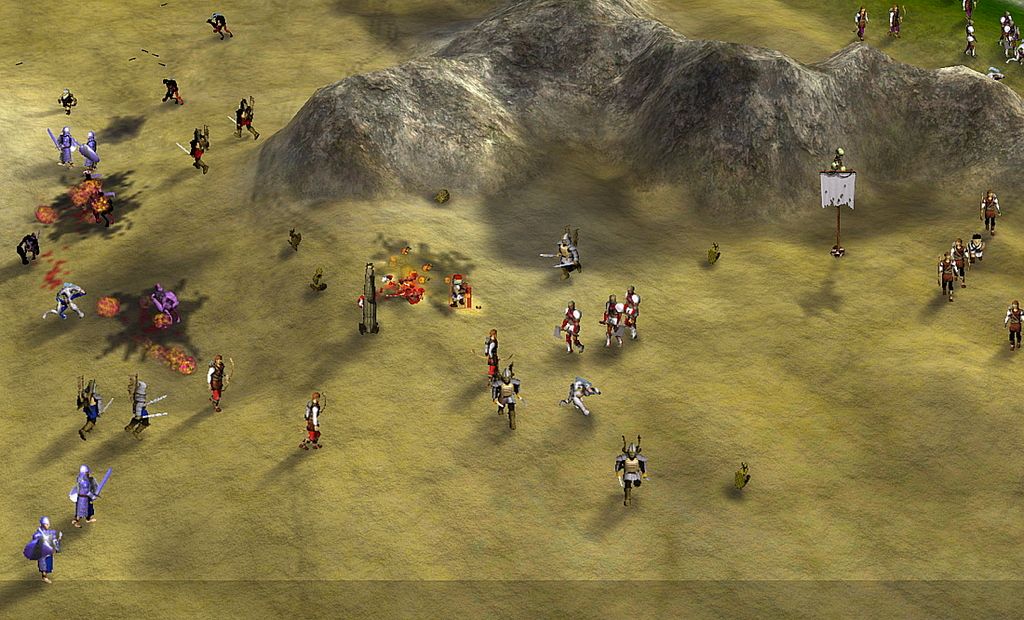 An interesting thing happens next. East Wind rushes blonde's mixed pack with his Herons, and Lizard King rushes Dac and Kryptos with
his
herons. You can see
One Serpant Green Talon
with flashing sword here as he lays into
Aethelwulf
.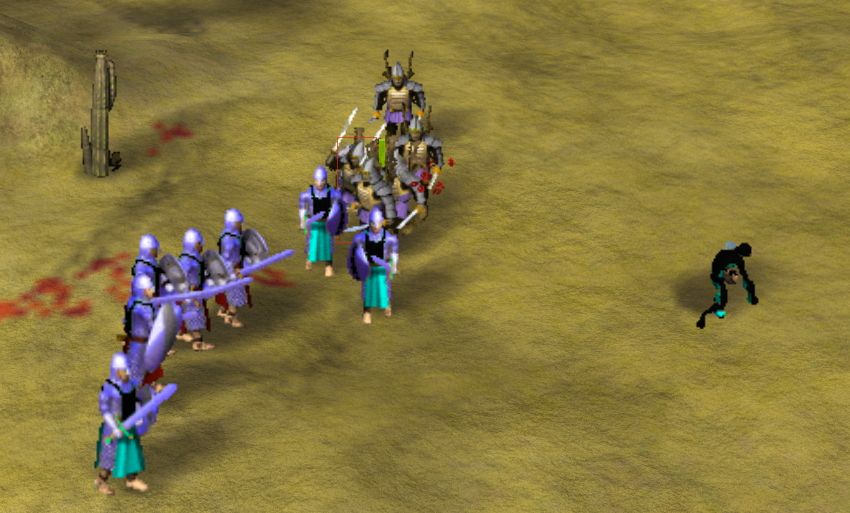 At this point %s are way down for TMNT, by 20%. Dac was cleaned up by Lizard King. An archer battle was developing, but TMNT didn't have enough %s to survive that... however, you can see that GKG had an ace up his sleeve for just this moment. Captain's duff gets fire arrowed and Adrenaline's duff gets pussed.
The dwarfs cook off and shit explodes everywhere. TMNT is still down 24% and the teams are nearly tied in time and flags.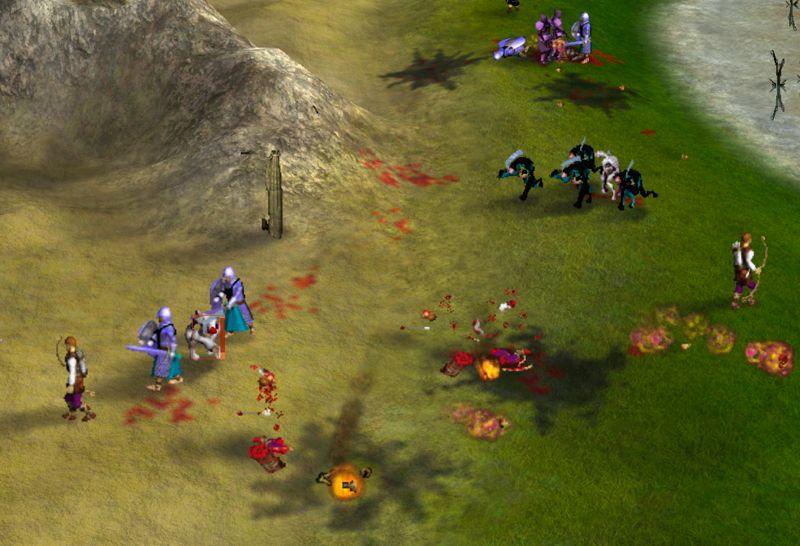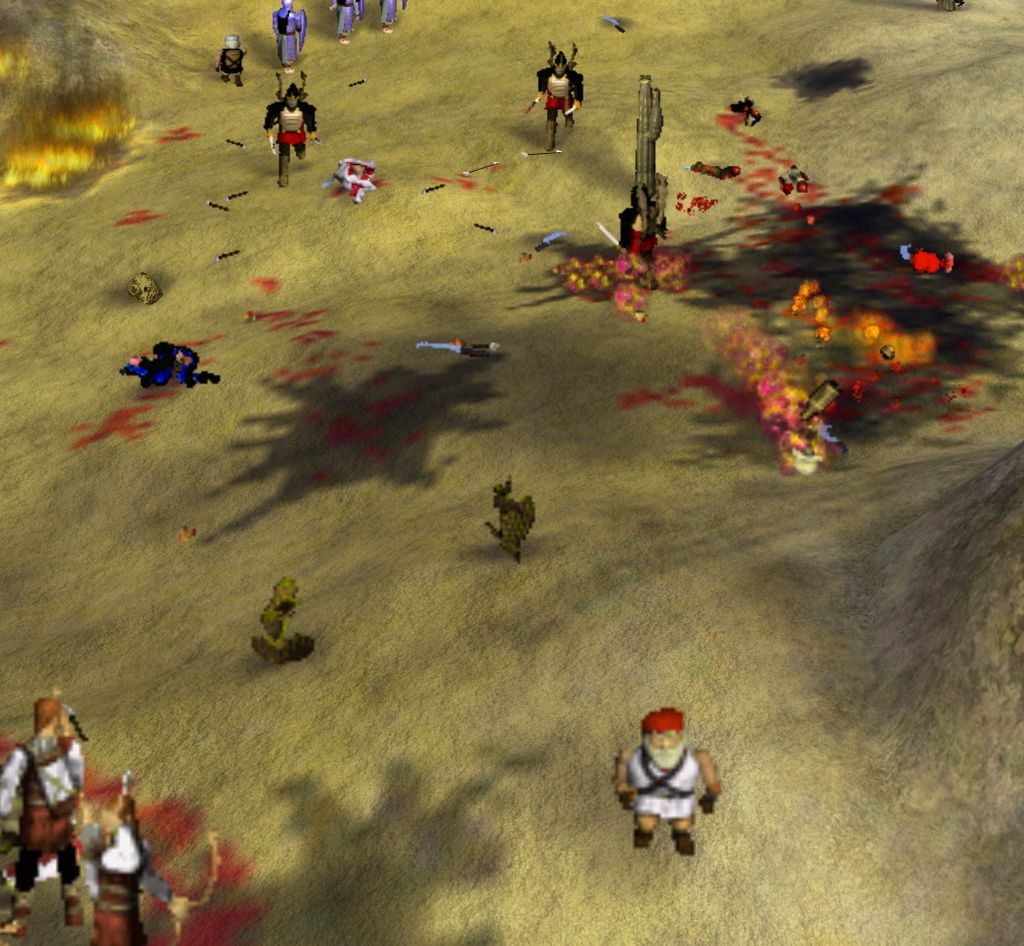 Remember
Jvalin
? He's about to meet a most unlikely fate when an errant puss cooked off a nearby bottle and blew him to smithereens... except it burns out!
Still alive, Jvalin is able to toss a bottle at Asmodian to keep his herons at bay, and he's assisted by Adreanline and Slate's archers who wound
Ten Eagle Burning Stone
. Although,
Roger
shoots
Luis
in the back of the head.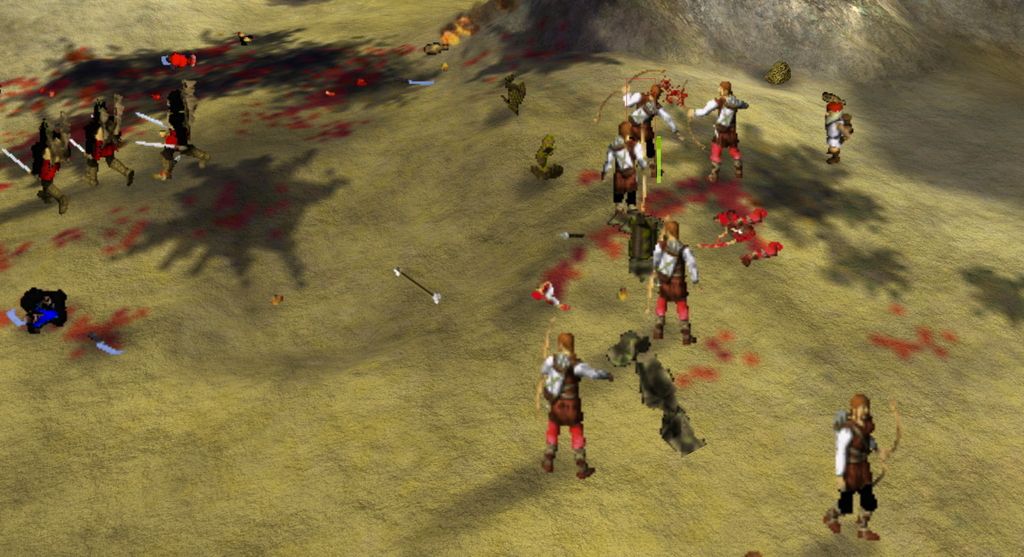 With Rawr, Lizard King and and Shadow rushing west, slowing reducing Cruniac, GKG gets one last puss off, again no less then
Jvalin
. Is this the final stroke of the clock? Yup.
TMNT is slightly up in time but down 20%. with 7 minutes remaining.
GKG smokes Adrenaline and Slates archers with puss after the MoM players killed Captain's dwarf.

They all close in for the melee death battle and it's some 47 ronin shit. GKG's Herons massacre Slates archers, and Asmodian stats up in Slate's thrall.
One Deer Burning Skull
is dismembered by
Ten Eagle Burning Stone
and
Eleven Vulture Fire Serpent
.
Despite a successful melee, the problem for TMNT now is that MoM simply controls more flags. TMNT is having trouble securing even a single flag. Time is rapidly slipping through their fingers...
Nevertheless, GKG hounds Rawr, slaughtering his warriors and eventually vaporizing them with a puss bomb.
Six Motion Bloody Jaguar
seen here with 4 kills.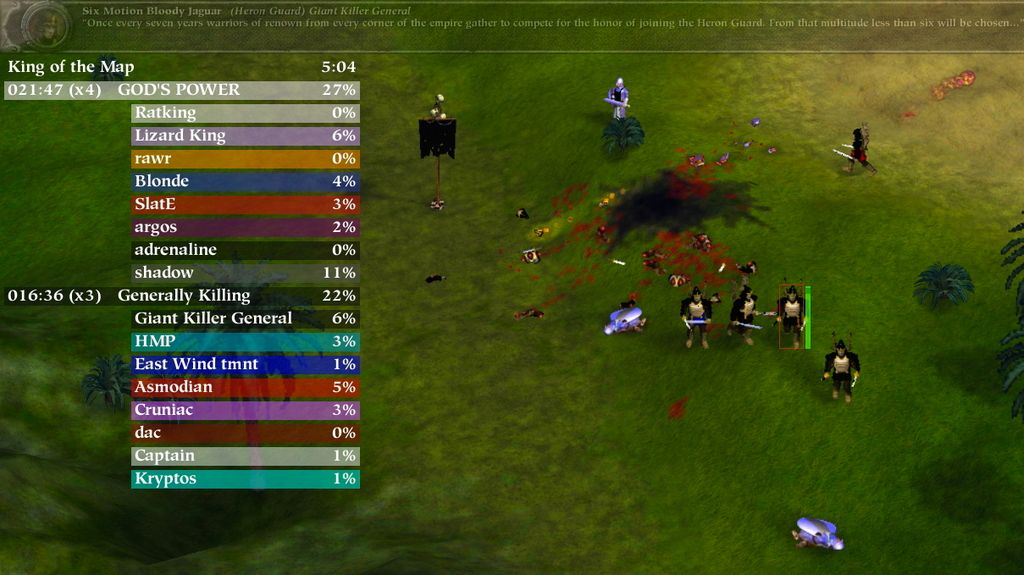 The final heron fight is between GKG and KilG.
Six Motion Bloody Jaguar
seen here with 5 kills.
Seen here as sole survivor with 8 kills.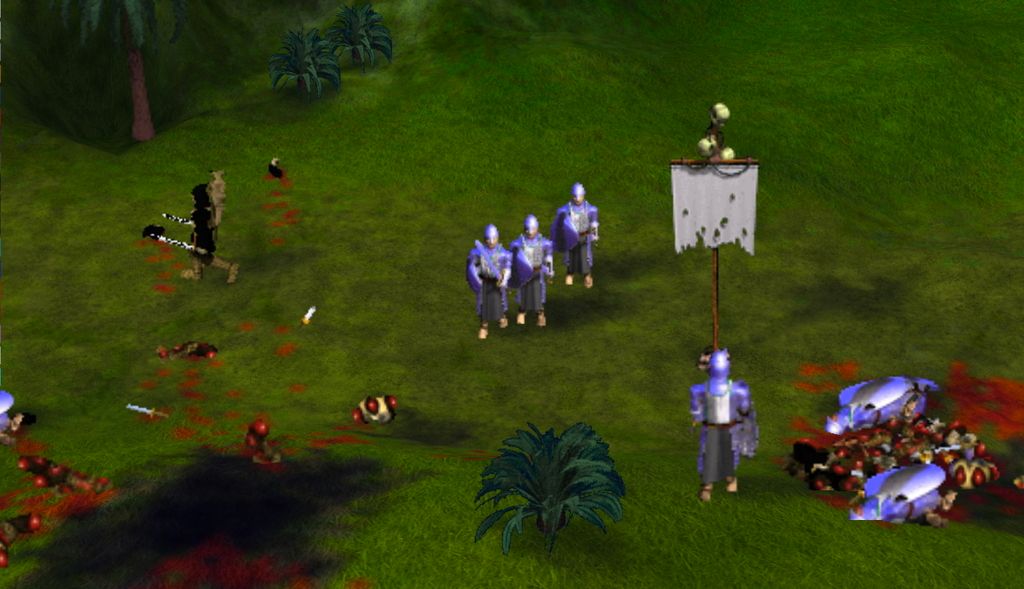 Meanwhile, keeping flags tagged, SlatE with Six Vulture Dog Star (8 kills) contemplates what it all means...
Six Motion Bloody Jaguar
, who ends the game with 12 kills, assisted by the ghol
Pounder
(2 kills) captures the South West flag with 1 minute 36 seconds left.
This moments of individual heroes are not enough to overcome the relentless flag tagging pressure of MoM and the time runs out for the Mutant Ninja Turtles.
Stats
[youtube]https://www.youtube.com/watch?v=CJA65uwlyMw[/youtube]
New Mutator Coverage
Game 5 Arcane Haven, Dark, FR
So its Arcane Haven, the modish dark mesh with lots of choke points and architecture. GKG traded for soulless, 5 warlocks and 3 mortars, whereas Ratking got a ton of mauls and no soulless and 6 warlocks.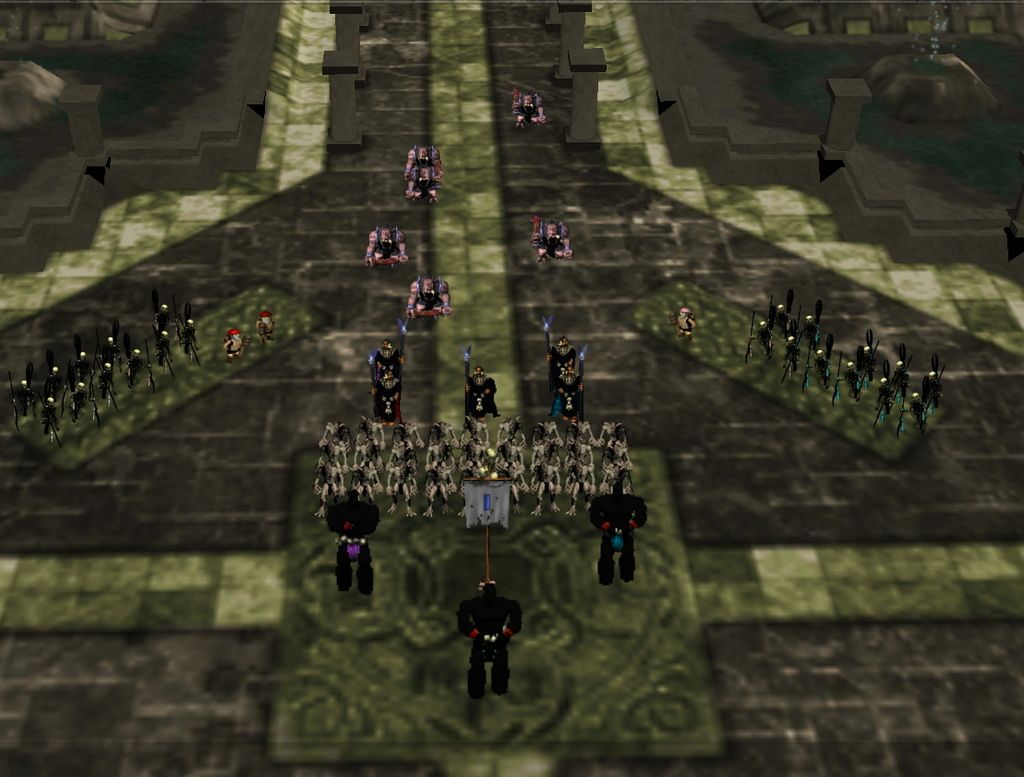 GKG sends Cruniac and Asmodian west, HMP and himself mid, and Dac and Kryptos + EW to the East.
Ratking sends Chron1 and SlatE mid, + Blonde. Rawr and Shadow are west. Adrenaline and RK are east. It's a classic machup, if all goes according to plan.
Lizard King beats out GKG on the tag for flag 4.
GOD's POWER is up in flags at this point, and you can see the prongs encountering eachother.
GKG now uses his soulless advantage to push mid, crossing and putting serious pressure on Lizard King. Cruniac likewise pushes back Rawr.
Likewise, Eastwind closes with Ratking, aiming for Adrenaline's artillery.
It backfires for EW when Adrenaline's warlock shot kills Dac's warlock.
In the west, Rawr snipes a warlock, and Captain and Asmodian put pressure on flag 5. GKG gives up MoM's home flag and runs for 5 as well. Adrenaline and Ratking keep up the defensive play on III,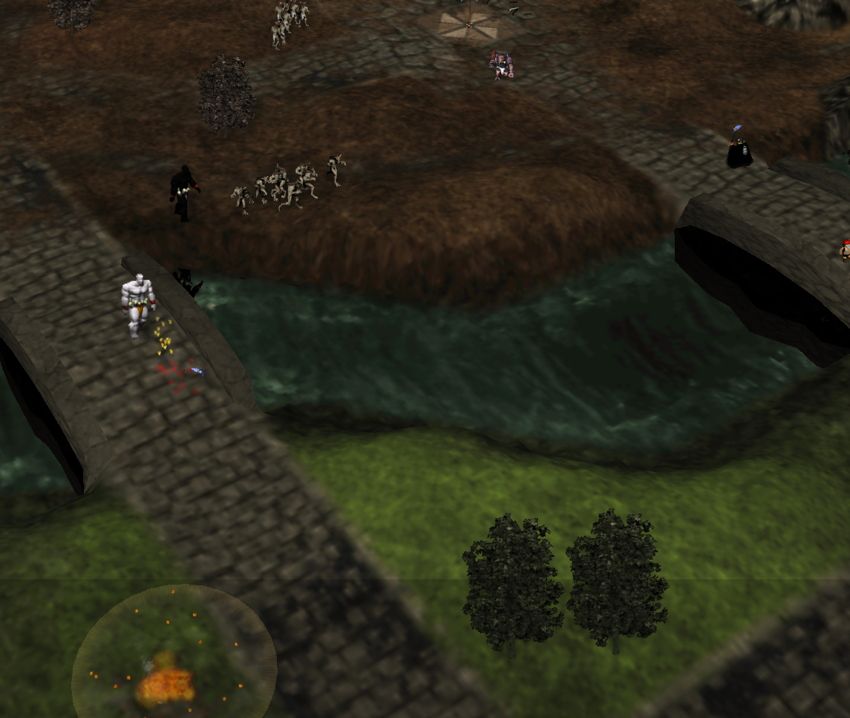 Cruniac continues to hound Rawr and East Wind blocks Adrenaline's lock shot.
Rawr is in danger of being trapped by Cruniac, Asmodian, Captain
LK chases GKG, and Ratking and Adrenaline keep the pressure on East Wind, Dac and Kryptos.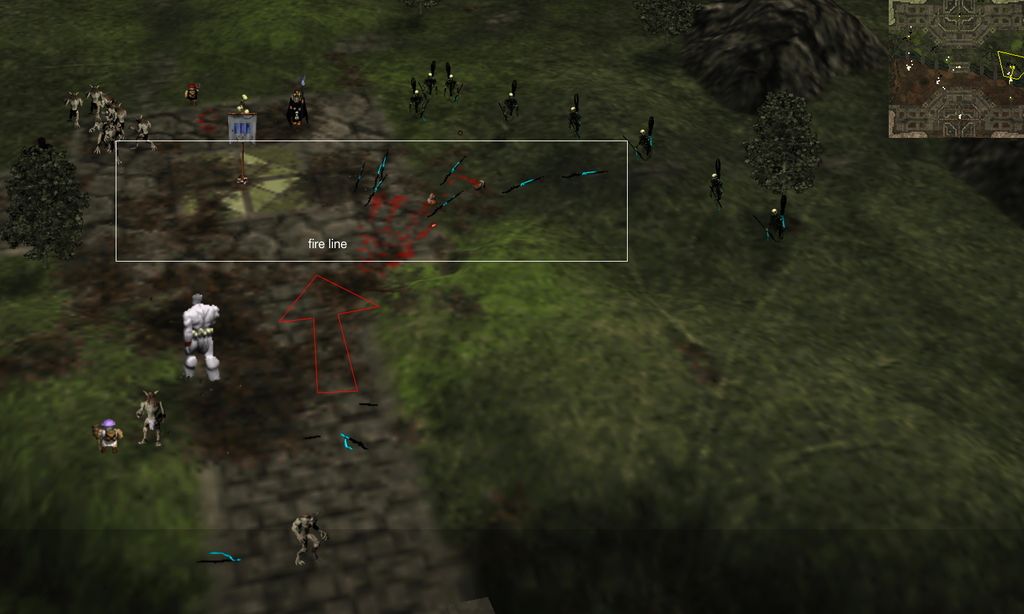 Ratking makes yet another beautiful block while dodging javelins worthy of RZA.
HMP and Blonde face eachother in the mid
And of course GKG and LK go 1v1 with
Igne Ferroque
and
Pulvis Ira
and their myrk packs.
Chron pulls of a crucial mortar shot, essentially deciding the outcome of the melee conflict.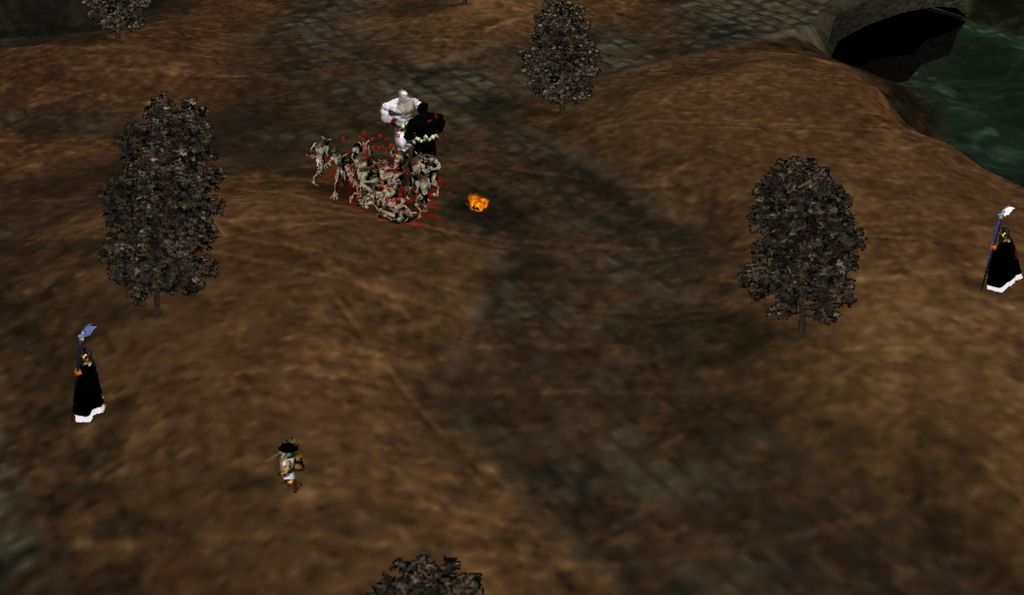 GKG flees.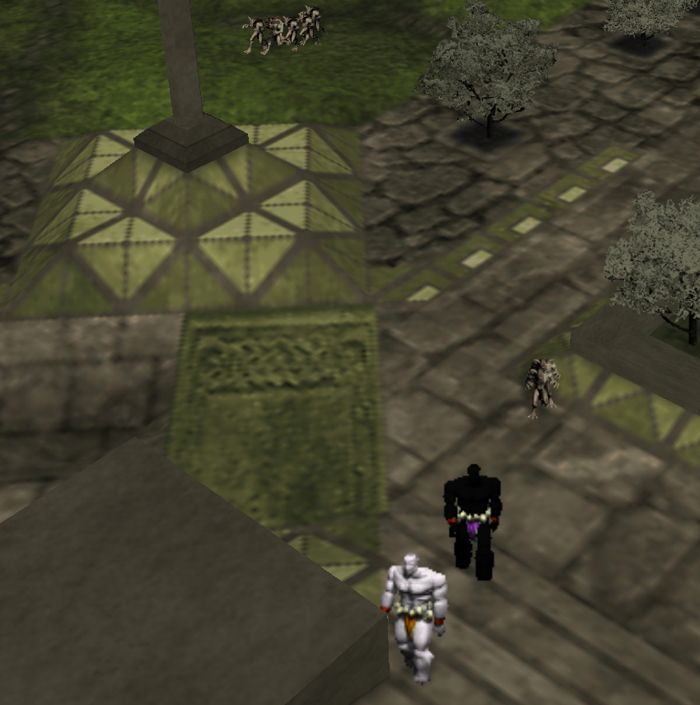 Meanwhile East Wind and Ratking and Adrenaline battle it out, reducing their trows' health, and Cruniac continues to chase Rawr...
GKG goes mid and rapes SlatE's artillery, you can see Duri and Jarling about to die, while Ratking pulls back. %s are now even.
GKG, seen here killing warlock
Gonim
, cleans up the mid, crushing Blonde, but taking a bunch of dmg from myrks.
Blonde's dead warlock (from
Gonim
) shot does nuke HMP's warlock.
But the Myth Masters have a lot of ground to make up, they are down by 10% now, and Ratking orders them back to flag 7, abandoning flag 6 and 4.
Shadow is camping on flag 5, with 20%, which is already controlled by both teams.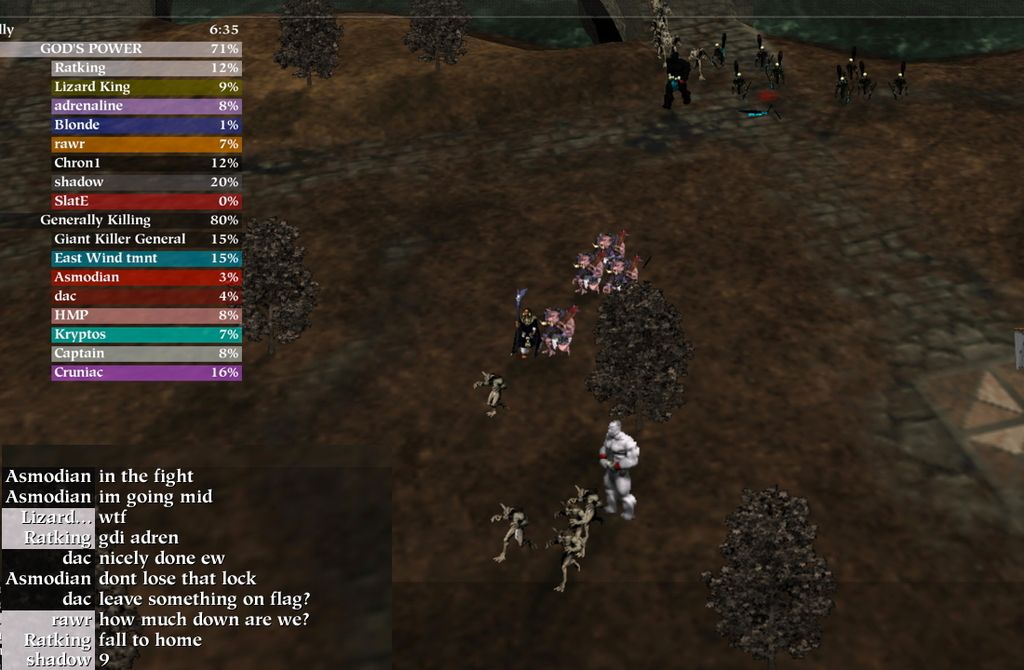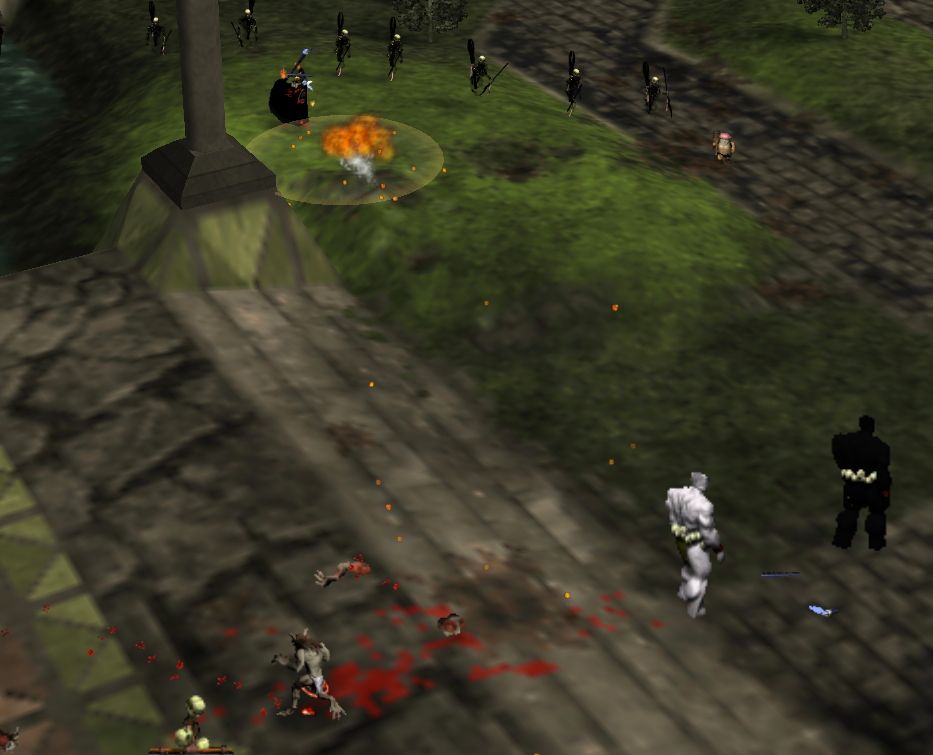 Rawr and Cruniac finally make it back to the game, but TMNT is up by 8% and now controls more flags. Chron1 gets GKG's trow with a Myrk, and Lizard King goes to get flag III. TMNT gets victory imminent with about 5 minutes left. GKG orders general defensive quarters.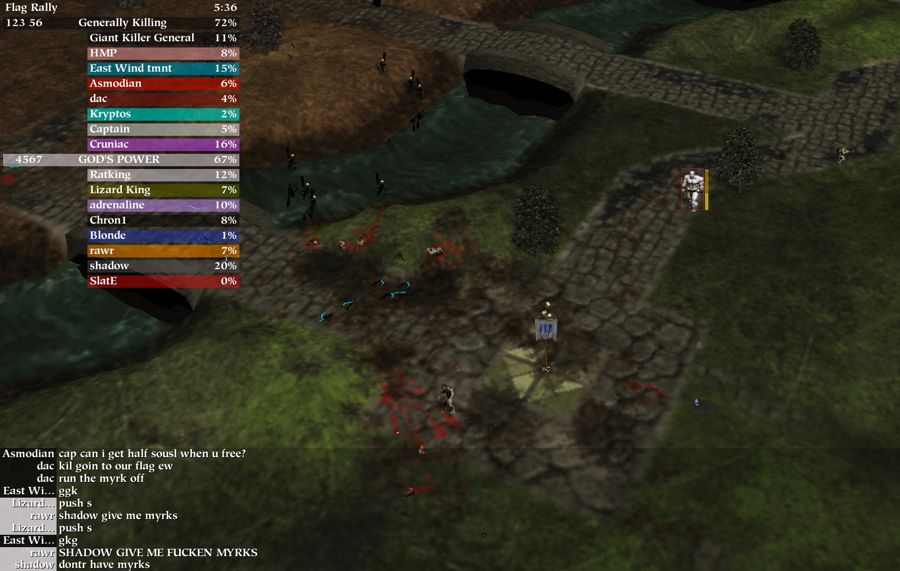 MoM is trying to make a move against flag I, but they still need flag 2 as well.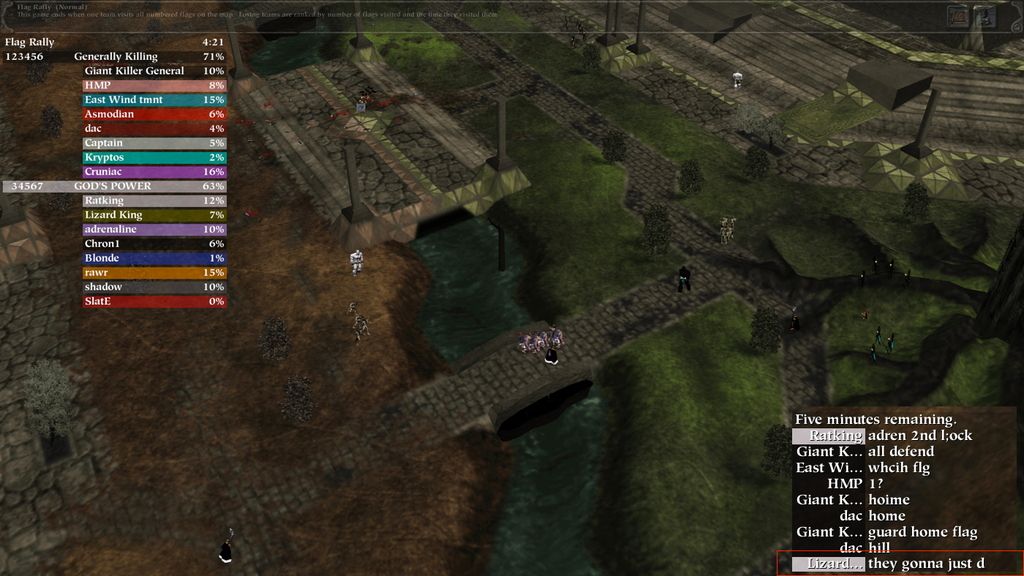 Rawr tries to get in close on flag I but gets caught by Cruniac and HMP and his trow gets taken out.
Shadow is moving in on Captain and Asmodian on Flag II.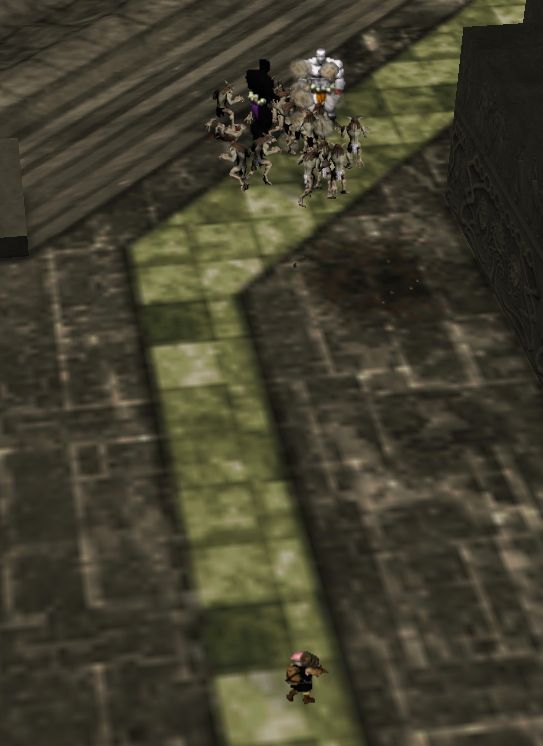 Shadow caps flag II for victory imminent. there's 3 minutes left, but God's Power is down by 12%
Dac shoots Adrenaline's warlock as the Masters of Myth try to keep the pressure on GKG's flag defence.
This leads Ratking to attack, scoring a warlock before East Wind takes him down. MoM is down by almost 30%. There's not much MoM can do at this point and TMNT closes the trap. It's going to go to a decider game...
Stats
[youtube]https://www.youtube.com/watch?v=JQ_Jos-RQtU[/youtube]
New Mutator coverage
[youtube]https://www.youtube.com/watch?v=hYldiuvwahY[/youtube]
Game 6 Desert CTF, Sudden Death
This is it. After the intense carnage and shocking turn of events of the preceding games, this is
GAME SIX
:the unbelievably intense DE2 Myth World Cup 2015 TMNT vs MoM tiebreaker game.
You can see the deployments here.
Ratking got more archers and thrall, GKG more wars and ghols.
Slate is going north for MoM, but there's no need since TMNT has only a token north. The two armies are distributed South and Mid:
They have an epic archer battle south.
Tamer
and
Bruiser
, controlled by Kryptos and Adrenaline are here seen dodging hundreds of arrows.
Adrenaline goes for the puss and tosses it at Cruniac's archer. Will it detonate? It doesn't.
Meanwhile, GKG and Asmodian have got the north organized.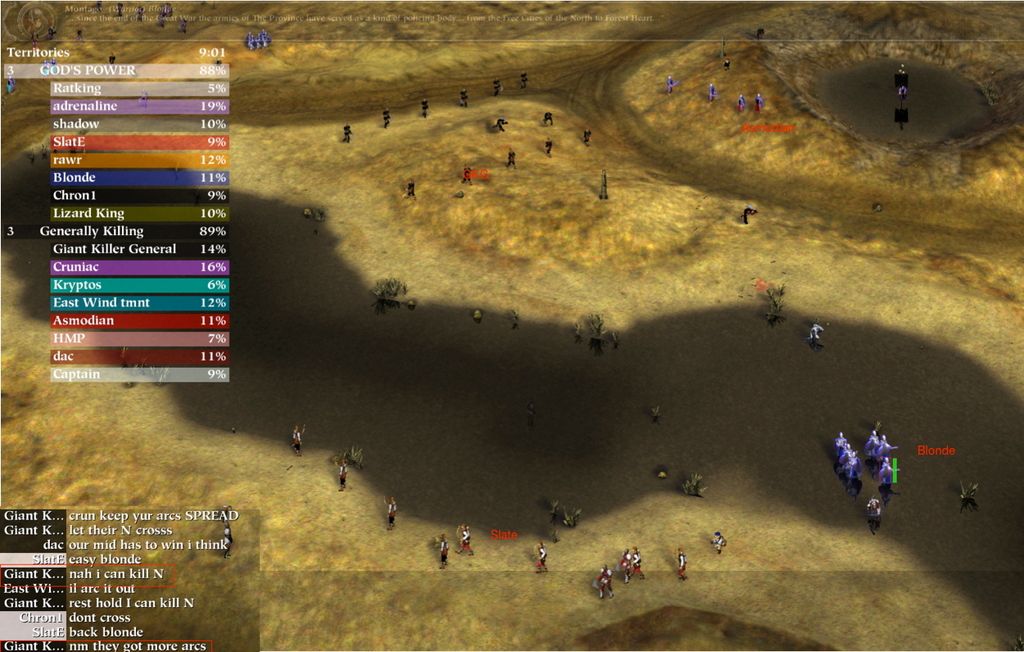 GKG moves mid, leaving Asmodian to hold north. GKG wants to get through South, so he's ignoring the dead puss ghols mid...
So the archer fight is intense but eventually GKG and Cruniac start pushing. Ratking, controlling
Jar,
stands stoically facing an incoming pus, tossed by
Dasher
controlled by Kryptos.
Meanwhile, Asmodian is facing off with Chron1 and Blonde who are just standing there.
SlatE is chasing a ghol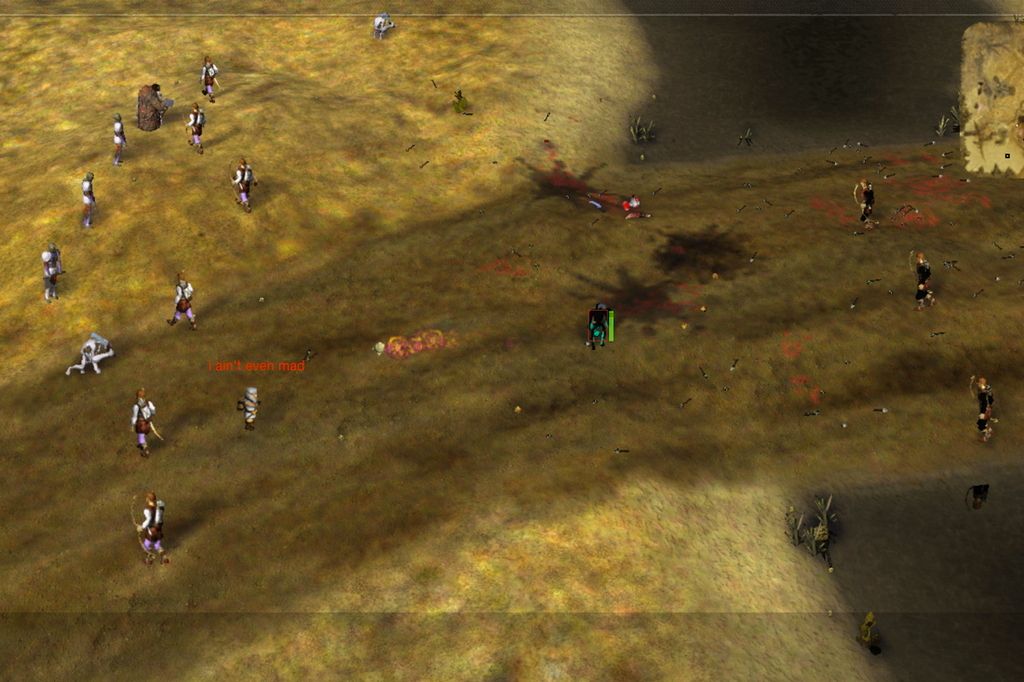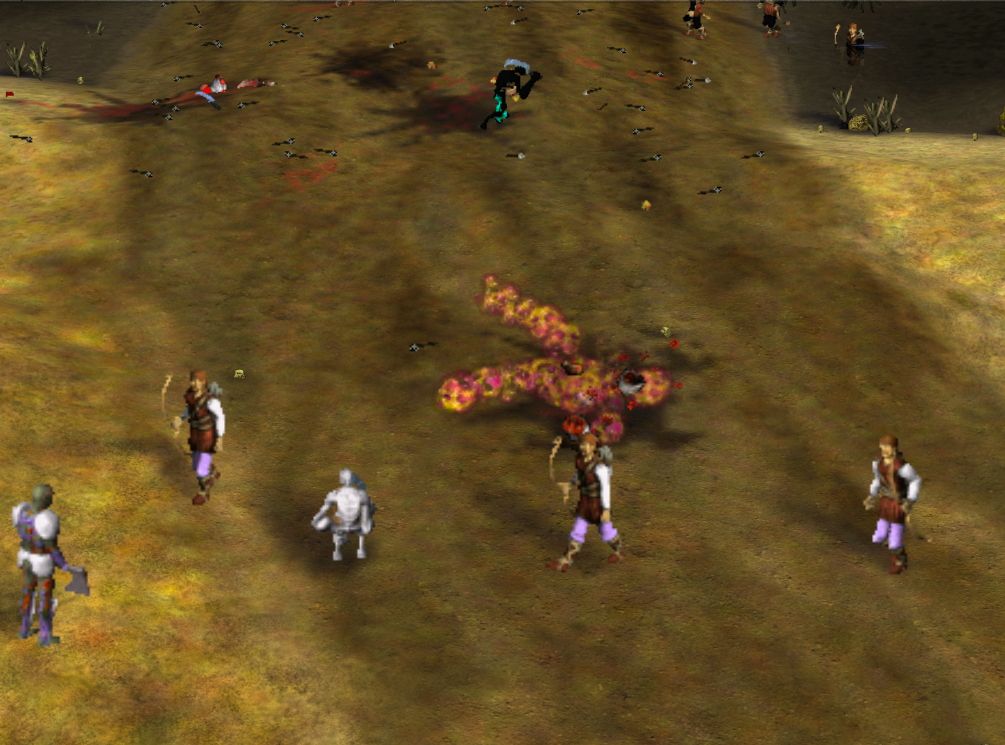 Mid situation.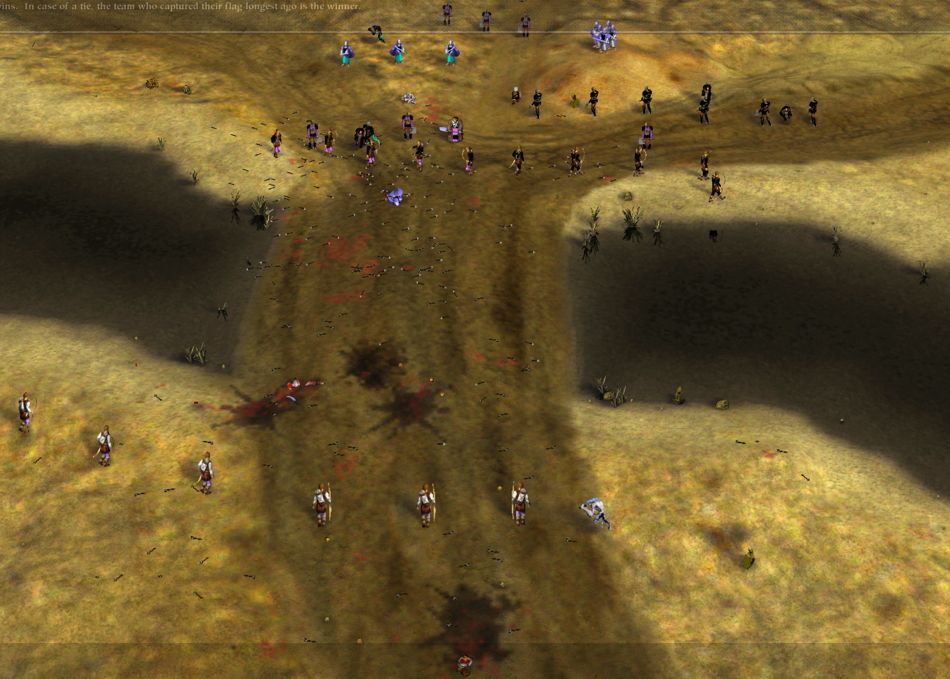 Ratking orders a South Rush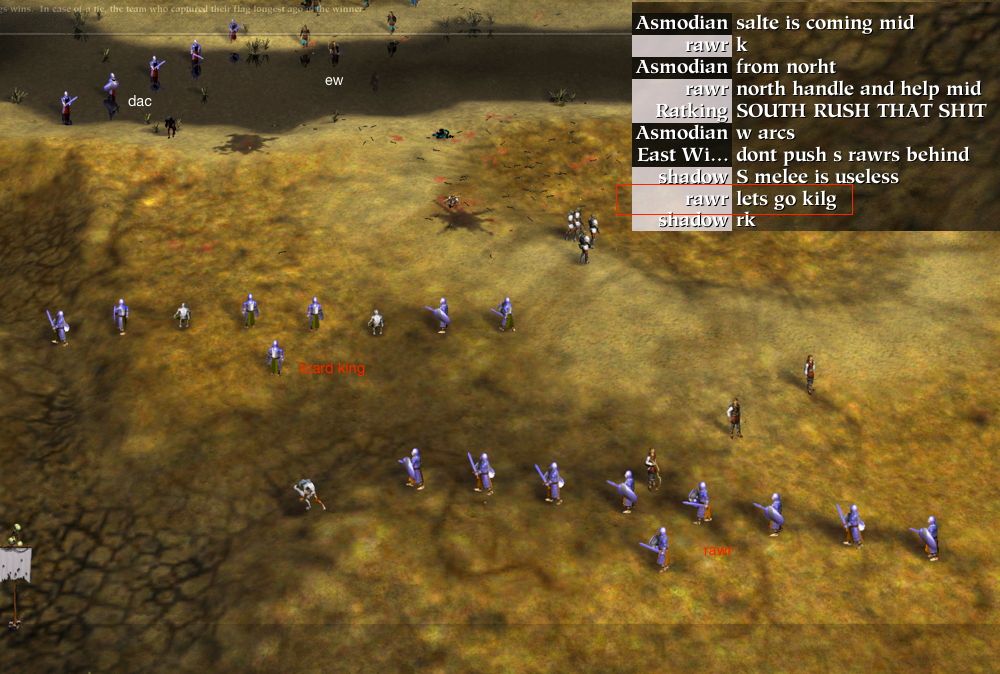 Rawr is 100% ready to commit for ®USH GAINZ. They've just got to get through HMP, Dac and East Wind.
... But it gets called off.
At this point, it is no exaggeration to claim that the entire free-world wants to know only one thing at this moment: what is on the mind of Giant Killer General?
The archer battle mid can continue a little longer, but TMNT 2.0 doesn't have enough archers. South is likely to be rushed once the counter ticks down. There's five minute left and it looks like north is going to fall to the mom thrall wave.
Well, Blonde gets North back for MoM. Some action goes down south with the archer battle, and the mid stick-shooters have not ceased even for a split second.
South: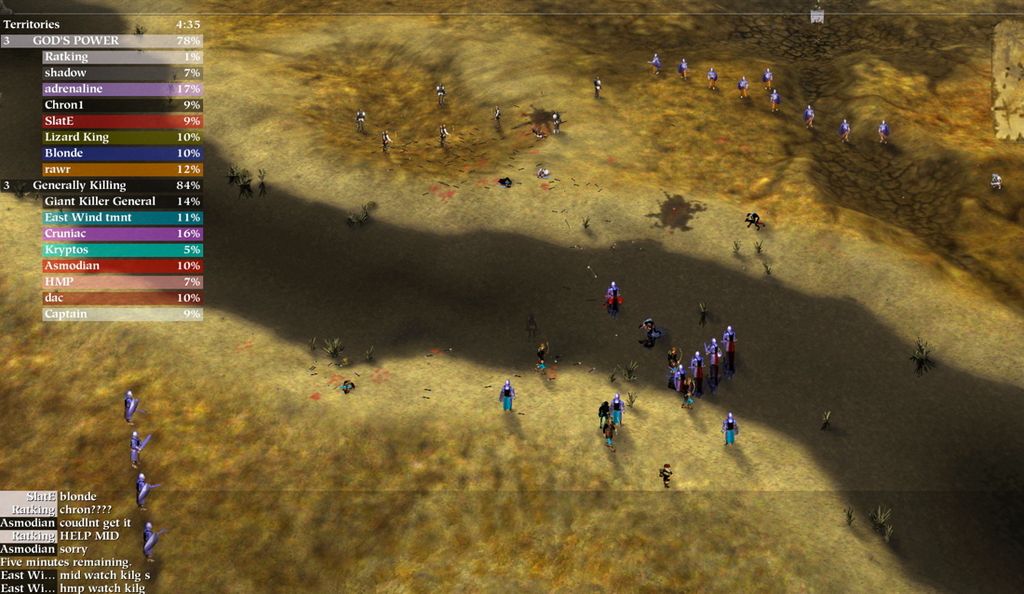 South is now rush: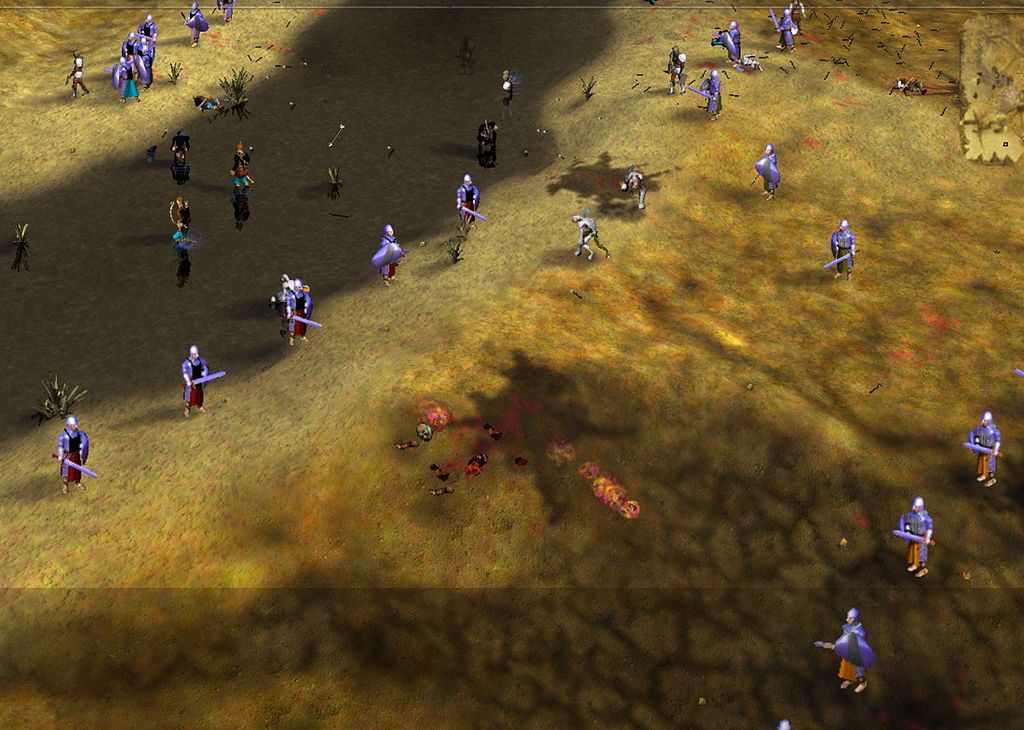 Amidst the general carnage we see
Haddings
get gibbed by pulverizer.
More puss goes down, slowing the rush to a crawl.
In the mid the archer fight does not abate for a moment...
In the south, KilG and RAWR rape Dac and rush across...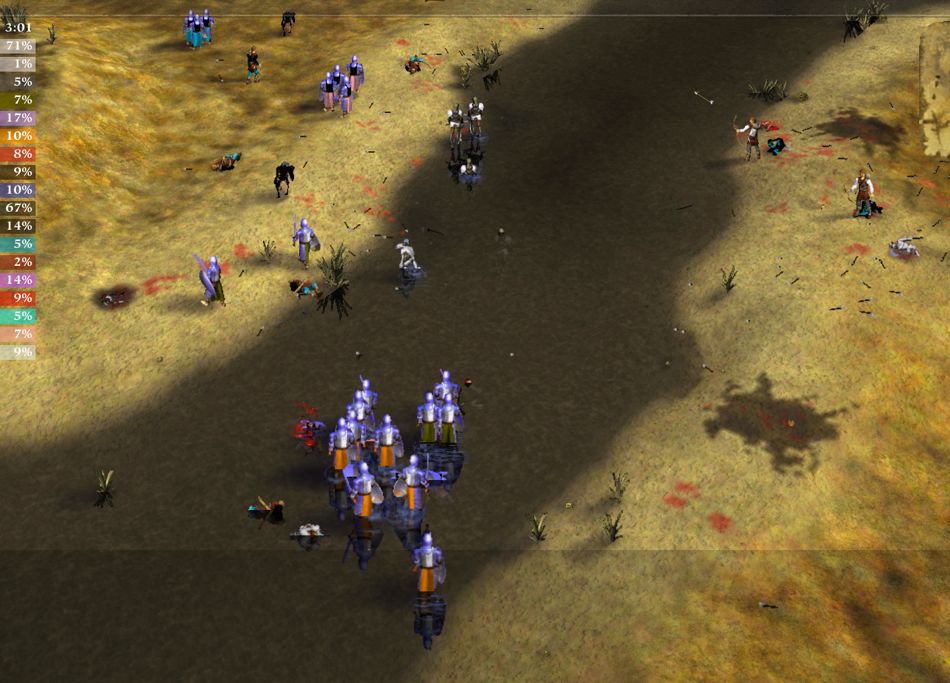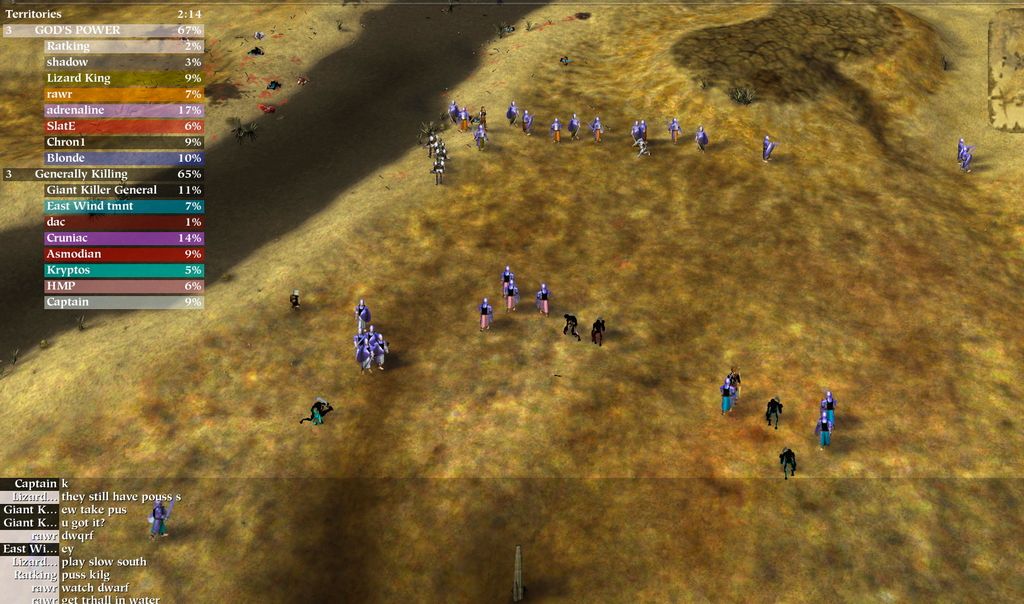 They line up for the final battle. The epic concluding melee combat that the entire series has built to at this moment.
It's now 3 to 3 flags, with just over 1 minute left. RAWR had pulled back and then Lizard King delivered some critical pus from
Flattener
, stunning Captain's duff,
Dari.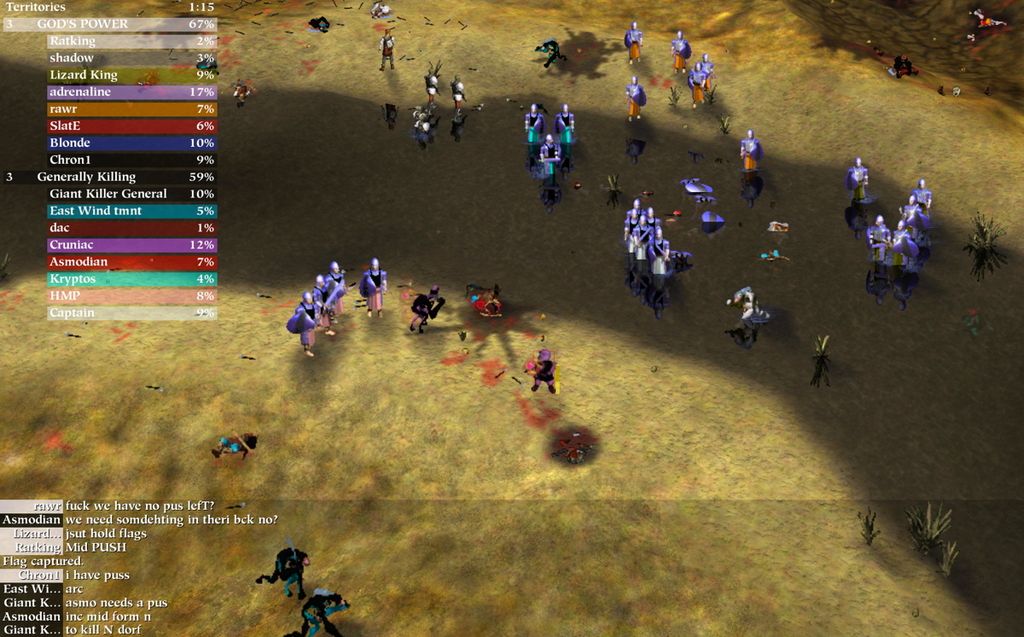 But then the tide turns! Rawr gets pussed yet again and Captain, wielding the very same
Dari
, nukes Rawr's war pack. Ratking is still up 7% at this point.
There's 30 seconds left of regulation time, and its 61 to 50% favouring the Masters of the Myth2: Soulblighter.
Adrenaline and SlatE won the mid battle in the end, crushing Cruniac and GKG, who nevertheless held out with inferior numbers for the entire game.
Rawr gets pussed again and cleaned up in the South and in the North, Asmodian is fighting Blonde. In this little pool of water, Blonde must defeat Asmodian to keep MoM in the game.
Adrenaline's dwarf explodes and blows mid to pieces, which was pretty cool, and Asmo and Blonde are still struggling to the death. Asmo pulls some near Chicken-Wire level maneuvers and secures the flag...
At this point, MoM is down to 12%. Blonde finally gets Asmo with his duff.
Now its back to mid, they've got warriors and ghols contesting everywhere, but the remaining forces are mid, although that's not a lot at this point. TMNT 2.0 is up by 20%. TMNT caps mid and wins the match when sudden death expires.
Stats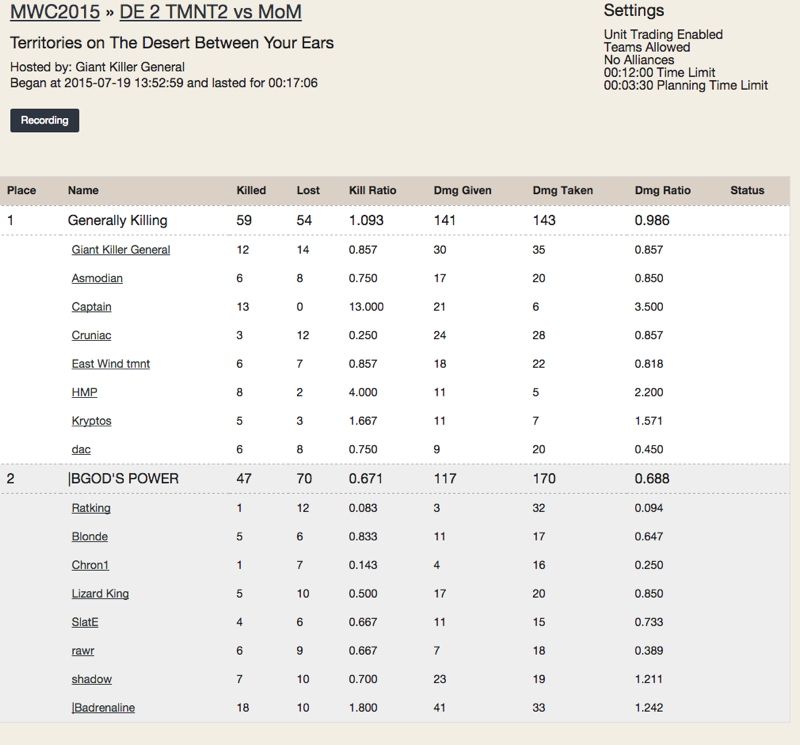 [youtube]https://www.youtube.com/watch?v=a6km8sRaw8w[/youtube]
New Mutator Coverage
MoM on the way to the bottom bracket finals, tailed by Kryptos and Captain.
[youtube]https://www.youtube.com/watch?v=HFduVeNEWSA[/youtube]